Key bank earnings are scheduled for release this Friday which are likely to provide a better understanding of the sector's prospects in the near future. Banking stocks were buoyed by their success in the recently conducted stress tests. Moreover, the Federal Reserve has allowed all sector heavyweights to go ahead with their capital spending plans.
But stocks from the industry have failed to replicate the gains they accrued in the immediate aftermath of the presidential elections. The absence of policy related stimulus means that they will have to rely on company specific factors in order to impress investors. In this context, key bank earnings scheduled for release over this week and the next, including The PNC Financial Services Group, Inc. PNC and Wells Fargo & Company WFC, assume greater significance.
With JPMorgan Chase & Co. JPM and Citigroup C scheduled to report on Jul 14, this may be a good time to consider which of these is a better stock. Both of them have a Zacks Rank #3 (Hold). You can see the complete list of today's Zacks #1 Rank (Strong Buy) stocks here.
Return on Assets (ROA)
Currently, JPMorgan holds total assets of $2.49 trillion while Citigroup has total assets of $1.79 trillion. Our research shows that the average one year trailing 12-month ROA for JPMorgan stands at 1.02%, higher than 0.86% for Citigroup.
Price Performance
JPMorgan has gained 7.6% in the year to date period, outperforming the Zacks categorized Banks - Major Regional industry which has moved up 7.2%. In comparison, Citigroup has not only outperformed the broader industry but is also ahead of JPMorgan, gaining 12.4% over the same time frame.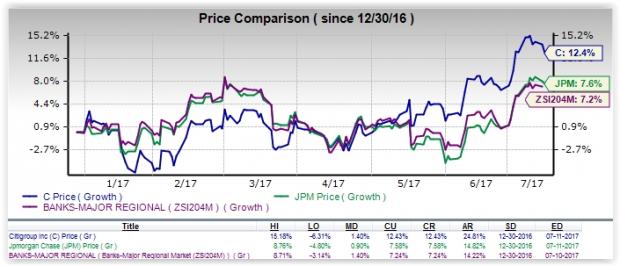 Valuation
Compared with the S&P 500, the Banks - Major Regional industry is undervalued. This implies that the industry has the potential to gain in the near future. The industry has an average one year trailing 12-month P/B ratio – which is the best multiple for valuing banks because of large variations in their earnings results from one quarter to the next – of 1.56, which is below the S&P 500 average of 3.62. Hence, it might be a good idea not to stay away from stocks belonging to this industry.

Coming to the two stocks under consideration, with a P/B ratio of 0.88 Citigroup is undervalued compared to the S&P 500 and the industry. However, though JPMorgan is also undervalued compared to the industry and the S&P 500, with a P/B ratio of 1.44, it is pricier than Citigroup.

Dividend Yield
JPMorgan's dividend yield over the last one year period is 2.15%, higher than the broader industry's figure of 1.87%. With a dividend yield of 0.96% Citigroup shareholders earn significantly lower dividend yield than JPMorgan as well as the industry at large.

Earnings History and ESP
Considering a more comprehensive earnings history, JPMorgan has delivered positive surprises in all the prior four quarters with an average earnings surprise of 12.7%. Citigroup has matched this feat, but with an average positive earnings surprise of 8.5%, it loses this round to its larger rival. But the situation changes when considering Earnings ESP values, with JPMorgan clocking in at -0.63% while Citigroup's reading stands at 0%.
Conclusion
Our comparative analysis shows that JPMorgan holds an edge over Citigroup when considering earnings history, dividend yield and return on assets. However, Citigroup is superior when considering price performance and valuation. Additionally, it carries a positive ESP reading of 0%, better than JPMorgan's figure of -0.63%. Both stocks have a Zacks Rank #3 and seem to be evenly matched but Citigroup is preferable ahead of earnings, since it holds a clear edge in the Earnings ESP stakes
More Stock News: 8 Companies Verge on Apple-Like Run
Did you miss Apple's 9X stock explosion after they launched their iPhone in 2007? Now 2017 looks to be a pivotal year to get in on another emerging technology expected to rock the market. Demand could soar from almost nothing to $42 billion by 2025. Reports suggest it could save 10 million lives per decade which could in turn save $200 billion in U.S. healthcare costs.
A bonus Zacks Special Report names this breakthrough and the 8 best stocks to exploit it. Like Apple in 2007, these companies are already strong and coiling for potential mega-gains. Click to see them right now >>
Want the latest recommendations from Zacks Investment Research? Today, you can download 7 Best Stocks for the Next 30 Days.
Click to get this free report
J P Morgan Chase & Co (JPM): Free Stock Analysis Report
PNC Financial Services Group, Inc. (The) (PNC): Free Stock Analysis Report
Wells Fargo & Company (WFC): Free Stock Analysis Report
Citigroup Inc. (C): Free Stock Analysis Report
To read this article on Zacks.com click here.
Zacks Investment Research