With EURUSD having crashed to a 1.09 handle, some would say Draghi's work is done (in terms of crushing US corporate revenues) but there is a bigger problem for the ECB head. The market has already entirely priced-in a cut in the ECB Deposit Rate (in fact is already pricing in even more - at -35bps, from -20bps) which may be an issue as two ECB governors have come out today, jawboning investors not to expect more easing soon. This has sparked a reversal in EURUSD and risk assets are rolling over...
Draghi hints at moar... And the market front-runs it, and prices in an ECB Depo rate of -30 to 35bps...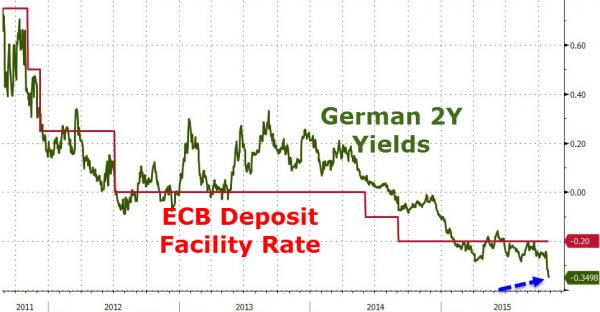 And then today, two ECB governors said not to expect more!
First ECB's Ardo Hansson said "I don't see any convincing reason to consider further policy action in December knowing what we know today,"
A member of the European Central Bank's governing body said he saw no need to ease policy further in December, contradicting an unexpectedly dovish message last week from ECB President Mario Draghi.

 

The euro zone economy appears resilient and long-term inflation expectations look relatively well-anchored, Ardo Hansson, a member of the ECB Governing Council and head of Estonia's central bank, said on Wednesday. A rate cut would depart from the bank's forward guidance and threaten its credibility, he said.

 

"I don't see any convincing reason to consider further policy action in December knowing what we know today," Hansson said at a news conference. "If something very fundamental changes, we could perhaps re-evaluate, but now I don't see any need to take such a step."

 

The ECB last week raised the prospect of policy easing in December and said a deposit rate cut may be on the agenda, even though the bank had earlier said rates had hit the "lower bound" and there would be no further cuts.
And then, ECB's Rimsevics says No Need to Rush Into Stimulus Before Year End
"There is no need now to rush into anything, especially before the end of the year," ECB Governing Council Ilmars Rimsevics tells reporters in Riga.

 

"Inbetween we will have a lot of discussion and debates and fact-finding"

 

Premature to assess impact of QE, need at least six more months to evaluate data

 

"We see some very small, marginal signs of a turnaround in lending data"

 

"We still need to receive more data"

 

"I believe the program is a good one but monetary policy alone cannot fix the problem"

 

"ECB definitely is going to do whatever it takes"
And EURUSD is starting to react...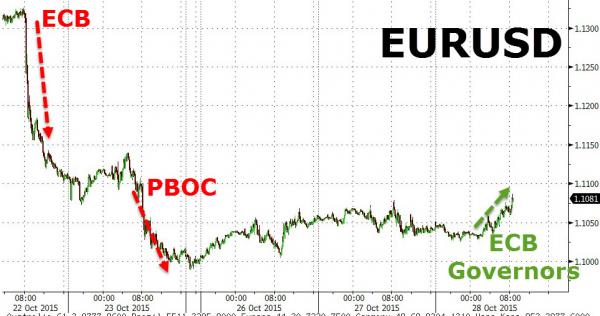 Charts: Bloomberg