EUR/USD is providing us with bearish continuation signs in both the 4H and the Daily chart. Let's start with the 4H chart: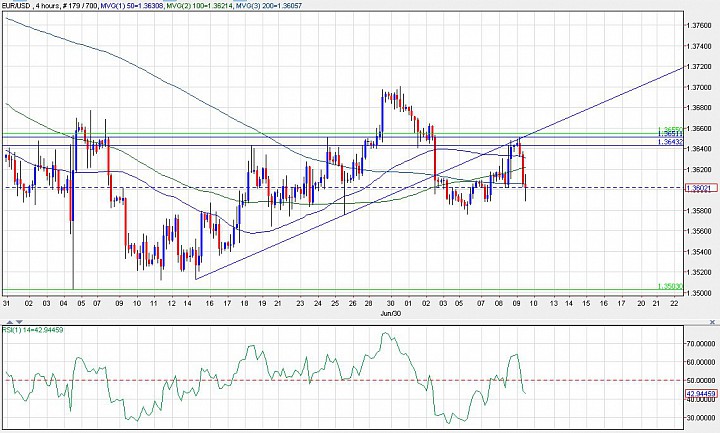 (eurusd 4h chart, 7/10)
1) After the initial reaction to the FOMC meeting minutes, the EUR/USD found resistance in 1.3650-1.3650, previous resistance area.
2) Price also respected a previous rising trendline support now as resistance.
3) Price is moving below the moving averages. 
4) 1.36 is the middle of the June-July range roughly between 1.35 and 1.37. Price is now attacking this central pivot. A break below it suggests a shift to the bearish mode.
5) I didn't draw the trendline, but there was a rising trendline in July that was broken. 

The bearish clues in the 4H chart accompany bearish clues in the daily chart: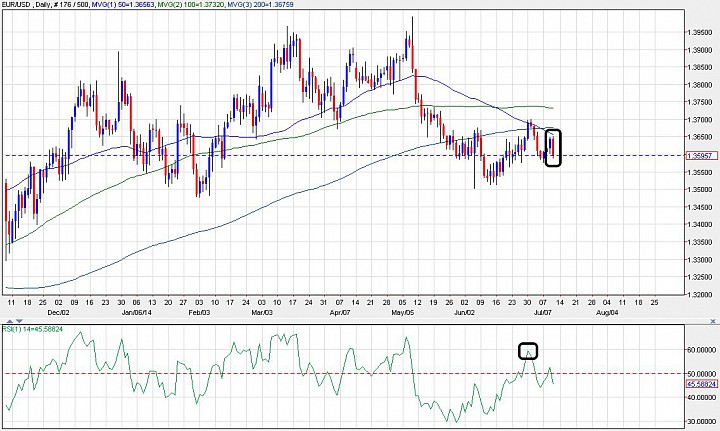 (eurusd daily chart, 7/10)
1) Today's bearish candle if it were to close now, is a bearish engulfing candle, or outside bar. 
2) Price is showing respect to the moving averages as resistance. After the bearish cross over in May, respect of the MAs as resistance sets up for a slingshot.
3) The RSI was held under and thus reflects maintenance of the bearish momentum. 
With the bearish signs aligned in the 4H and daily chart, the EUR/USD is poised to test the 2014-lows in the 1.3475 to 1.3505 area. A break below 1.3475 would open up the 1.3295-1.33, Nov-2013 lows.