Analysts from Axiom and Brean Capital weigh in on online radio giant Pandora Media Inc (NYSE:P) and online retailer JD.Com Inc (ADR) (NASDAQ:JD). While Pandora announces a deal to acquire Rdio, JD.com issued mediocre Q3 earnings but strong Q4 guidance.
Pandora Media Inc
Analyst Victor Anthony of Axiom weighed in yesterday on Pandora after the company announced it would buy Rdio, an on-demand music service, for $75 million. The company's stock plummeted since its Q3 earnings release last month, prompting investor concern.  He reiterated a Hold rating and decreased his price target from $20 to $14. The analyst stated that his summer conference call with millennial participants indicated a bleak outlook for the company going forward.  During the call, participants stated that they cut back on Pandora for online radio/music, instead opting for competitors such as Spotify and Apple music. They also indicated they are eager to try YouTube music, which was released last week. Anthony believes the company's main challenge is "rising competition that has dented growth of users and listener hours." He believes the company will have a difficult time increasing listener hours, which he says is crucial now that the company has reached the maximum audio ad loads for its top markets.
The company plans on releasing new CBR rates later this year, which will affect the company's 2016 EBITDA. Although these changes will not affect the company's equity, the analyst does not recommend buying the stock given both these new rates and usage decreases. Pandora is currently testing an on-demand service and recently acquired Rdio's technology for $75 million to speed up the progress for this service, which will launch in late 2016. Although not licensing, the company is working with record labels such as Sony/ATV and plans on signing deals with others to build up this service. The analysts question whether this service will be successful due to the "already established on-demand players". They also anticipate difficulties for the company converting their 78 million monthly active users to the service. Anthony states that "the market is near saturation and it may be too late" for the company to establish itself as a key player. He concludes, "We have increased our non-subscription content costs growth rate assumptions form 7% to 14% and tweaked our revenue assumptions. The changes reduce our price target to $14 from $20."
According to TipRanks' statistics, analyst Victor Anthony has a 60% success rate recommending stocks and an average return of 14.5% per recommendation. Overall, out of the 19 analysts who have rated Pandora in the last 3 months, 9 gave a Buy rating, 2 gave a sell rating, and 8 remain on the sidelines. The average 12-month price target for the stock is $19.00, marking a 52% upside from where shares last closed.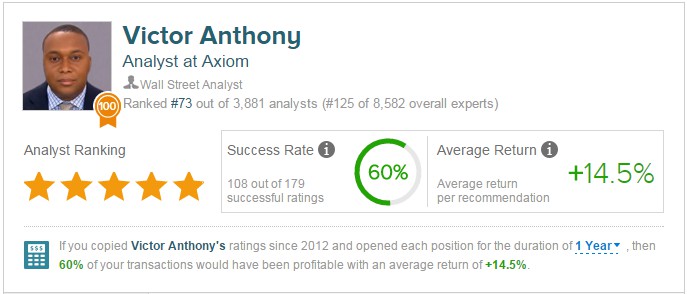 JD.Com Inc(ADR)
Following the company's Q3 earnings release last week, analyst Fawne Yiang of Brean Capital weighed in yesterday on the stock, reiterating a Buy rating and a price target of $37. The analysts states that this quarter's slightly below consensus revenues and EPS are a direct result of macro challenges which are not in the company's control. In fact, the release stated consistent growth in gross merchandise volume in apparel, food and beverage, home furnishing, cosmetics, and sports. The company also saw strong growth from Weixin and Mobile QQ, attributing this to a strengthening partnership with Tenecent. During promotions such as Double 11, Weixin and Mobile QQ contributed to 50% of new customers.
Other highlights from this quarter, which contributed to strong y/y growth, were the company's continued investment in new business such as cross border e-commerce, as well as increasing capacity. Management issued positive sentiment on JD worldwide, citing 100% q/q growth and "the opening of 7 country malls." The company constructed two Asia warehouses in Wuhan and Guangzou to increase capacity and improve efficiency in operations. The company plans to continue constructing warehouses in all hub cities going forward. JD's other subsidiaries, such as JD Daojia and JD Bang also contributed to growth this quarter. Furthermore, the company invested in acquiring over 100,000 new agents in order to "drive sales and promote the JD brand."
The analyst notes that management issued above consensus Q4 guidance, though remaining conservative "due to uncertainties in the macro environment and competition dynamics." Given China's growing B2C e-commerce market, the analyst expects the company to "grow its core ecommerce business solidly with an improving margin outlook." He continues that although Q3's new business initiatives may affect short term margins, they are necessary and will "further enhance user experience and user stickiness and their reliance on JD's broader base network" creating a long-term growth cycle. The analyst continues, "We reiterate our Buy rating on JD and our TP of $37. Our target price of $37 is derived from our discounted-cash-flow analysis. Downside risks to our target price include: slower-than-expected ramp-up on GM and marketplace, investment/execution risks on logistics expansion, slower growth in traffic and active users upon increasing competition and increasing competition, etc."
According to TipRanks' statistics, out of the 5 analysts who have rated JD.com in the last 3 months, 4 gave a Buy rating while 1 remains on the sidelines. The average 12-month price target for the stock is $35.25, marking a 22% upside from where shares last closed.