If yesterday's 5 Year auction was ugly across the board, today's 7 Year was even uglier.
The ugliness started at the very top, where the High Yield came at 1.792%, tailing 1.1 bps to the 1.781% When Issued. But the Bid to Cover really stole the thunder, sliding from 2.368 in February to just 2.317. This was the lowest coverage since May of 2009. The internals were not as exciting, with Directs holding 12.3% (below the TTM average of 16.5%), Indirects left with 50.51% (above the 48.2% average), and Dealers virtually unchanged from a month ago at 37.2%.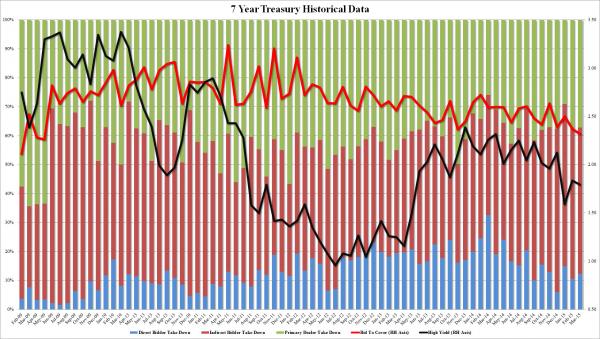 The auction was so weak it has accelerated the selling across the curve, and the 10Y, after sliding to the low 1.80%s earlier this morning, is about to rise above 2.00% yet again.