``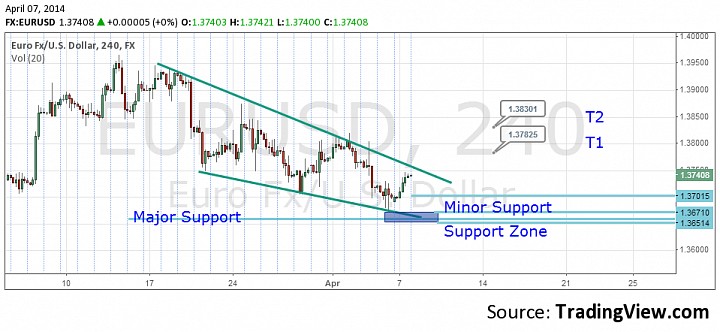 ---
Trade better: Stocks, Futures, Forex
---
EURUSD is currently in a bullish pennant on the 4 hour time frame. The most interesting part is the next major support level at 1.3650 area.I am looking for bullish validation for a swing trade long.
---
If price can retrace from current levels back into the 1.3650 area, we have multiple support levels that are lining up for a high probability buying area.  The potential for this trade is also significant. With targets being around 1.3730 and 1.3820 areas. 
---
The supports that are lining up are significant for the following reasons: a) 1.3650 is a major retracement of a very broad swing b) It lines up with the lower trend line of the pennant formation c) there is a minor extreme price zone based on the previous bullish swing. 
---
I am looking for price action validation if price can retrace back into the 1.3650 area. Any selling below 1.3600 will cancel out this trade idea and be a good place for a stop in my opinion. Validation can come in forms of  lower time frame price structures or particular candlestick reversal patterns,
---
To learn more about how I conduct this analysis or trade, click here.