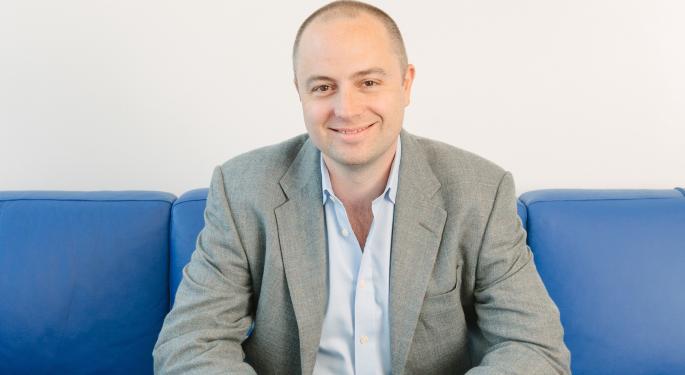 Master investor Steve Cohen's Point72 Asset Management has been looking at fintech lately with the formation of Point72 Ventures. It has acquired key talent to run the division, like Pete Casella, formerly of JPMorgan, and Alex Tarhini, from Barclays Techstars, and has made investments in fintech firms like Quantopian.
To get an understanding of the firm's approach to fintech, Benzinga caught up with Casella, who is overseeing its strategic technology investments, and Matthew Granade, chief market intelligence officer for Point72.
A Dynamic Organization
Casella said he was motivated to jump to Point72 from JP Morgan because "Point72 is a really dynamic organization that's very tech forward and has the ability to adopt and put innovative technologies to work."
According to Granade, Point72 is most interested in data analysis and compliance technologies. For example, Quantopian allows its customers to create custom algorithms that will crunch data to power investment strategies. Point72 has allowed the firm to manage up to $250 million of its assets.
"We do a great deal of data analysis of all types, whether it's bringing together large data sets or streams of data or the last-mile of displaying data sources to investment professionals," said Granade, which spurred the firm's interest in analytics firms.
Fintech Unfinished
When asked about the larger impact of fintech on the financial services industry, Granade said he doesn't think the industry has yet felt the full extent of fintech disruption.
"If you look at the industries that technology has massively reshaped, I don't think finance is one of them yet," Granade said. "I think finance has kind of been changed at the edges and not at the core. Fintech companies are moving in a highly regulated environment, working in an environment with very powerful and very wealthy incumbents, and so it's going to take a lot of insight and a lot of fortitude to build these kinds of businesses."
Casella echoed Granade's point, and sees fintech as maturing to a position where it will be able to solve larger problems rather than just consumer pains.
"If you look at the first wave of what people are calling fintech, it has primarily been around consumer user experience and retail products like payments or asset management," Casella said. "We're just beginning to see smart entrepreneurs trying to tackle big institutional problems, and Point72 is very well positioned to help these entrepreneurs improve their products and gain market adoption."
Collaboration
Interestingly, Casella said Point72 is looking at a collaborative investment strategy, rather than leading investments solo.
"We would appreciate the opportunity to work with other smart investors who may be looking at a company if they think that we can uniquely add value to the situation," Casella said. "If there are venture firms that are investing in the types of assets that we are focused on, we would envision working pretty closely with that group of investors," Casella said.
© 2016 Benzinga.com. Benzinga does not provide investment advice. All rights reserved.
Source