The chicken sandwich chain is already larger than Chipotle, and as it expands to new markets like New York, industry watchers say it poses a threat to the giants of fast food.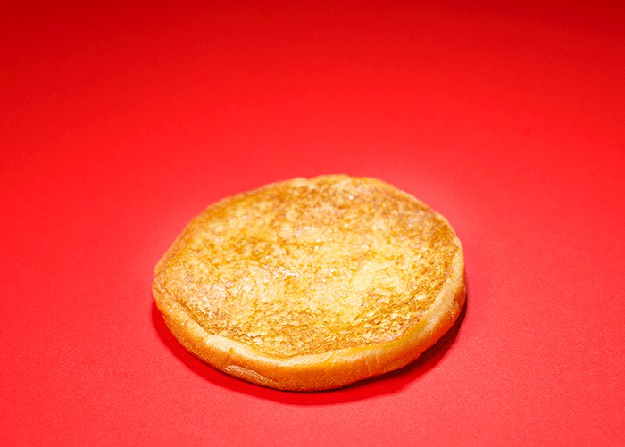 Chick-fil-A / Via inside.chick-fil-a.com
On Friday evening, as Hurricane Juaquin slowly approached the northeast and weather forecasters predicted a night of blustering winds and heavy rain, hundreds of people gathered in Manhattan's already rain-drenched Garment District, preparing to camp out for the night. Those who made it to the morning would be rewarded with a year of fried chicken sandwiches.
The would-be campers huddled together outside the giant new flagship restaurant of Chick-fil-A, a chain beloved in the South but almost unheard of in vast swaths of America, including New York. In rainproof coats and beneath a canopy of soaked umbrellas, they had their eyes on the prize: a free Chick-fil-A meal every week for the next year. With such a tempting lure on the horizon, few seemed concerned about the Category 4 storm whipping its way up north.
New Yorkers wait in line the evening before Chick-fil-A's Manhattan store opening.
These were people on a mission. That their target was Chick-fil-A is appropriate, as there are few mission statements in corporate America that can hold a candle to the Atlanta-based chain's: "To glorify God by being a faithful steward of all that is entrusted to us," begins the declaration. "To have a positive influence on all who come in contact with Chick-fil-A."
In areas where the chain has thrived, those who come into contact with Chick-fil-A tend to come back for more. The company now has more restaurants than Chipotle and higher annual sales than KFC, with the average outlet pulling in $3 million last year, more than any other major fast food chain including McDonald's. If you exclude mall locations, the average Chick-fil-A makes about $4.2 million, overtaking even the non-Mahnattan locations of upscale burger chain Shake Shack.
These numbers are set to get more impressive as the company launches its assault on the Northeast, headlined by a flagship Manhattan store that is set to become the chain's busiest when it opens Oct. 3. And they're doubly impressive because every single Chick-fil-A outlet in America is shuttered every Sunday, something unheard of in the industry but firmly in line with the company's managerial approach, which is guided by a power higher than consumer demand or returns on investment.
"I had given Chick-fil-A to God," the company's late founder S. Truett Cathy wrote in his biography, Eat Mor Chikin: Inspire More People. "I operate it and take care of it along with our staff and Operators, but it's His business."
---