Bristol-Myers Squibb Company's BMY third-quarter 2017 earnings of 75 cents per share fell short of the Zacks Consensus Estimate as well as the year-ago quarter earnings of 77 cents.
However, total revenue of $5.25 billion came ahead of the Zacks Consensus Estimate of $5.2 billion as well as $4.9 billion recorded in the year-ago period. Strong sales of Opdivo and Eliquis contributed to the top line in the reported quarter.
Shares of the company were down 1.9% in pre-market trading, presumably due to the lower-than-expected earnings. Bristol-Myers' shares have increased 9.5% so far this year, which compares unfavorably with the industry's increase of 17.8%.
Quarterly Details
Revenues were up 6% year over year when adjusted for foreign exchange impact. Revenues in the United States increased 3% to $2.9 billion and increased 12% outside the United States. Ex-U.S. revenues were up 11% when adjusted for foreign exchange impact.
Leukemia drug Sprycel raked in sales of $509 million, up 8% year over year. Melanoma drug Yervoy contributed $323 million to the top line during the reported quarter, up 13%.
Opdivo, which is approved for multiple cancer indications, generated revenues of $1.27 billion, up 38% from the year-ago period. The drug received approval for its label expansion in three more indications, which includes hepatocellular carcinoma, metastatic colorectal cancer and recurrent gastric cancer.
However, the performance of key drugs in the Virology unit continues to disappoint. Sales of Baraclude declined 14% to $264 million. The Reyataz and Sustiva franchises deteriorated 27% and 33% year over year to $174 million and $183 million, respectively..
Nevertheless, sales of Eliquis were $1.23 billion during the reported quarter, up 29% year over year. Multiple myeloma drug, Empliciti recorded sales of $60 million, up 46% year over year.
Research and development (R&D) expenses in the quarter increased 36% to $1.5 billion mainly due to a charge of $310 million related to acquisition of IFM Therapeutics, while marketing, selling and administrative expenses remained flat at $1.1 billion.
Gross margin was 70.1% in the quarter compared with 73.5% in the year-ago quarter due to change in product mix and recognition of an inventory charge.
In September 2017, Bristol-Myers completed the acquisition of all outstanding capital stock of IFM and gained full rights to IFM's preclinical STING and NLRP3 agonist programs, which enhance the body's immune response for treating cancer. Moreover, the company signed a global collaboration and license agreement with Halozyme Therapeutics for developing subcutaneous administration of its immuno-oncology medicines using Halozyme's ENHANZE drug delivery technology.
During the quarter, Bristol-Myers entered into multiple collaborations to develop Opdivo in combination with two antibody drug conjugates, a PARP inhibitor or tyrosine kinases inhibitor in several tumor types. These include Daiichi Sankyo's investigational candidate DS-8201, AbbVie Inc's ABBV ABBV-399, Exelixis, Inc.'s EXEL Cabometyx and Clovis Oncology, Inc.'s CLVS Rubraca.
Pipeline Update
In September, Bristol Myers announced data from a phase III study, CheckMate -238, which showed significant improvement in recurrence-free survival in stage IIIb/c or stage IV melanoma treated with Opdivo – Yervoy combination compared to Yervoy alone. Meanwhile, another phase III study, CheckMate -214 was stopped early as Opdivo + Yervoy achieved superior overall survival compared to current standard of care sunitinib. The study was conducted on previously untreated patients with advanced or metastatic renal cell carcinoma.
However, three studies were placed under partial clinical hold evaluating Opdivo-based combinations in patients with relapsed or refractory multiple myeloma. The hold was placed based on risk observed in studies evaluating another anti-PD-1 agent, pembrolizumab, in multiple myeloma patients.
2017 Earnings Guidance Revised
Bristol-Myers has raised its adjusted earnings expectations for 2017. The company now projects earnings in the range of $2.95 to $3.05 per share (old guidance: $2.90 to $3.00). The Zacks Consensus Estimate for earnings is pegged at $2.99.
Our Take
Bristol-Myers missed earnings expectations primarily due to an increase in R&D expenses. However, robust sales of drugs like Opdivo, Eliquis and Yervoy in the quarter drove the top line. The revised 2017 guidance was also encouraging. Meanwhile, we are positive on Bristol-Myers' efforts to develop its pipeline, especially Opdivo.
Bristol-Myers Squibb Company Price, Consensus and EPS Surprise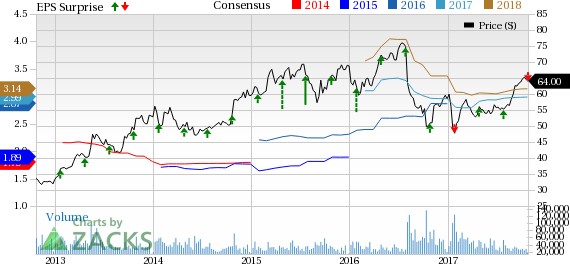 Bristol-Myers Squibb Company Price, Consensus and EPS Surprise | Bristol-Myers Squibb Company Quote
Bristol-Myers carries a Zacks Rank #3 (Hold). You can see the complete list of today's Zacks #1 Rank (Strong Buy) stocks here.
Looking for Stocks with Skyrocketing Upside?
Zacks has just released a Special Report on the booming investment opportunities of legal marijuana.
Ignited by new referendums and legislation, this industry is expected to blast from an already robust $6.7 billion to $20.2 billion in 2021. Early investors stand to make a killing, but you have to be ready to act and know just where to look.
See the pot trades we're targeting>>
Want the latest recommendations from Zacks Investment Research? Today, you can download 7 Best Stocks for the Next 30 Days.
Click to get this free report
Bristol-Myers Squibb Company (BMY): Free Stock Analysis Report
AbbVie Inc. (ABBV): Free Stock Analysis Report
Exelixis, Inc. (EXEL): Free Stock Analysis Report
Clovis Oncology, Inc. (CLVS): Free Stock Analysis Report
To read this article on Zacks.com click here.
Zacks Investment Research