"The Jungle Book," a live-action retelling of the Walt Disney Co. animation classic, topped the box office on its debut weekend, setting up the studio for what some analysts say could be one of its best years ever at theaters.
The movie, based on the classic children's book by Rudyard Kipling, brought in an estimated $103.6 million in U.S. and Canadian theaters, ComScore Inc. said in an e-mailed statement. That was the second-best April opening ever, behind only "Furious 7" last year, and easily beat two other new releases, the comedy "Barbershop: The Next Cut" and the action movie "Criminal," which placed second and sixth, respectively.
Disney enters 2016 with all five of its film units -- including Lucasfilm, Marvel and Pixar -- firing on all cylinders. That's led some analysts to predict the company will release a record number of $1 billion movies in a single year. Along with the success of "Zootopia" and this weekend's "Jungle Book," Disney soon will release the Marvel movie "Captain America: Civil War," which already has wowed critics three weeks before its U.S. release.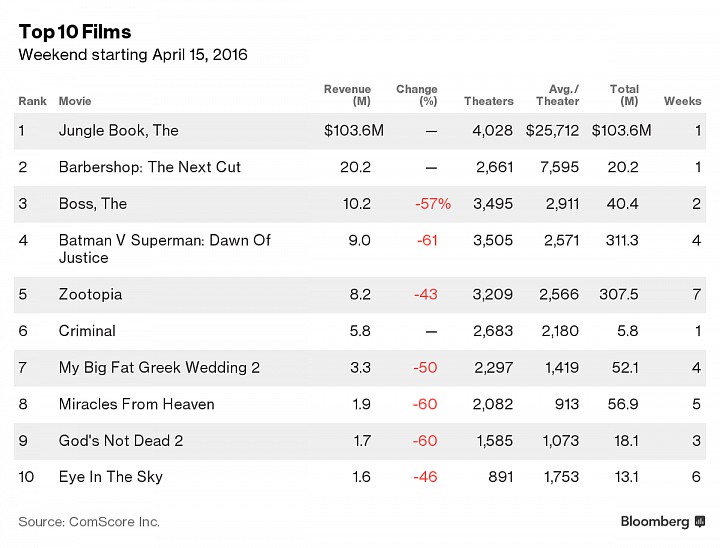 "Disney probably has four $1 billion movies this year," Jeff Bock, analyst at Exhibitor Relations Co., said in an interview. Universal Pictures currently holds the record, with three in 2015. "All you can do is mimic them. Unlike Universal Pictures, Disney isn't going to have a down year for maybe a decade."
"Jungle Book" had been forecast to generate $81 million in its debut weekend, though analysts at Boxoffice.com raised their prediction to more than $100 million before the weekend. Bock said the movie could gross $1 billion worldwide. Ticket sales are split roughly 50-50 with theater owners.
The film's domestic opening was the third-largest this year, behind "Batman v Superman" and "Deadpool," ComScore said. Its worldwide total this weekend was $239.7 million, the research firm said. Without adjusting for ticket-price inflation, "The...
More