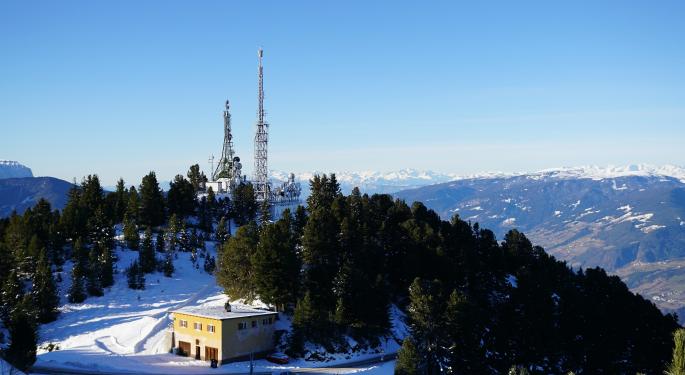 Morgan Stanley is bullish on cell tower stocks, given attractive valuations with an impressive long-term earnings growth of about 20 percent, which has been driven by tenancy.
Overweight Players
Among others, the brokerage is Overweight on American Tower Corp AMT, Crown Castle International Corp CCI and SBA Communications Corporation SBAC, with an average upside to the price target of about 30 percent.
The brokerage has a price target of $125 for American Tower, $103 for Crown Castle and $132 for SBA Communications, implying a potential return of 14 percent, 8 percent and 28 percent, respectively.
The Sector
Morgan Stanley analysts said tower companies ('towercos") benefit from long-term contracts with tenants facing high switching costs and a rise in tower outsourcing coupled with wireless and base transceiver station (BTS) improvements.
Other benefits of towercos include limited competitive pressure and regulatory risks; long-term revenue growth potential from, drivers such as mobile data growth; and a largely fixed cost structure, meaning significant operating leverage.
Globally, Morgan Stanley expects data traffic to grow 5x by 2020, with tower and tenancy CAGRs of 2 percent and 7 percent, respectively, over the same period, as carriers upgrade and densify networks.
Further, the brokerage noted that small cells are picking up in developed markets that already account for about 11 percent of Crown Castle's revenue. Third-party sources estimate the small-cell market at just over $1 billion currently and call for this to grow almost 4x to $3.9 billion by 2020.
"Our dividend discount valuation model (DDM) suggests that tower stocks are currently pricing in long-term dividend growth rates of ~5 percent, well below our long-term EPS growth of ~20 percent," analysts including Simon Flannery wrote in a note.
Further, the analysts expect towercos to do operationally better than operators, mainly in North America, Europe, India and China markets.
The analysis of Morgan Stanley suggests that towercos in the above markets could have higher revenue, EBITDA and earnings growth over 2015–2018, and in some cases deliver higher dividend yields than the operators in their respective regions.
At time of writing, shares of American Towers were almost flat at $117.36. Crown Castle dipped 0.48 percent to $99.18 and SBAC fell 0.83 percent to $111.91.
Did you like this article? Could it have been improved? Please email feedback@benzinga.com with the story link to let us know!
Date
Firm
Action
From
To
Jul 2016
Citigroup
Maintains
Buy
Jul 2016
Citigroup
Maintains
Buy
Jun 2016
Citigroup
Maintains
Buy
© 2016 Benzinga.com. Benzinga does not provide investment advice. All rights reserved.