What a silly market!  
I warned our Members in the afternoon to be wary of the low-volume rally and, of course, we stayed the course on our bearish hedges (see last week's posts), which kept us from enjoying yesterday's move up but will serve us well this morning as we're right back to Friday's lows.  Today's excuse for the sell-off is more bad data from China (what other kind is there) with yet another negative (below 50) PMI reading.  
Even worse, China's financial regulator is clamping down on shadow banking.  China's banking regulator is cracking down on financial engineering that Chinese banks have used to disguise Trillions of dollars in risky loans as investment products.  The clampdown, which will force banks to make provisions they previously avoided by disguising loans as investments, is designed to deflate one of the fastest-growing areas of the vast shadow banking apparatus, where bad debts are increasing.

Of course, let he who is without debt cast the first bond – the US has run up 160% of our GDP in debt since 2000, while China has 200% of their GDP into debt.  At least they got 7% GDP growth for 17 years (119%) out of all that spending while our GDP has grown less than 50% over the same period.  Still, since the GDP is growing then every year China is adding on even more stunning amounts of it as they continue to spend, spend, spend to paper over a weak economy (and again, so are we).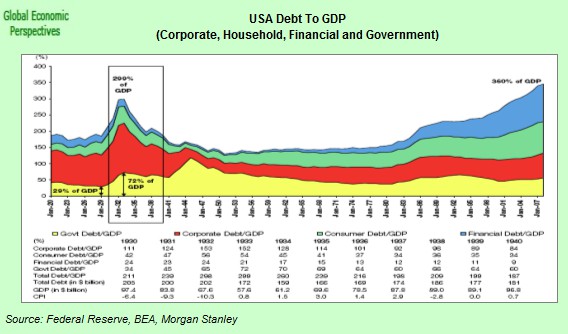 What worries me most of all is the acceptance of the idea that China only has $1Tn worth of bad loans, which would be 3% of $35Tn.  Anyone paying attention to the China property bubble or Chinese earnings can see the number is easily 3-5x that amount and, in China's smaller economy ($8Tn) – that's a lot of money!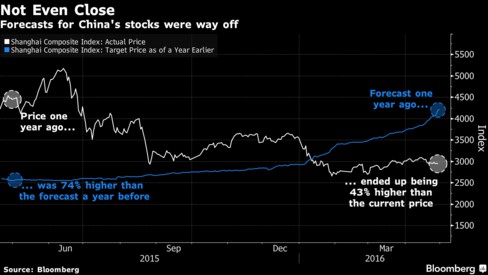 It's certainly not a good idea to rely on Chinese analysts to tell you what's going on – over the course of the past year, their targets for the Shanghai and Hang Seng markets have missed by an AVERAGE of 43% – that's the worst job of prognosticating on the planet – even when you include Jim Cramer!  
"Stock analysts are historically very bad at catching inflection points in the macro environment and forecasting exchange-rate moves," said Michael Wang, a strategist at hedge fund Amiya Capital LLP in London, which invests in Chinese equities. "Investors at the moment don't really believe the bottom-up earnings forecasts in China, which remain too high and will need to come down again as in previous years."
Chinese officials have taken unprecedented steps to shore up markets, including six interest-rate cuts since late 2014, suspension of initial public offerings and a ban on selling by major investors.  While China's economy is showing signs of stabilizing, some of the improvements are being fueled by borrowing.  New credit in this year's first three months topped $1 trillion for a record first quarter, helping gross domestic product to expand 6.7 percent — still the slowest pace in seven years.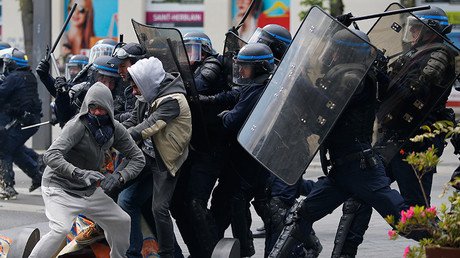 If you think this doesn't matter to the US markets, go ask 2008, when investors were shrugging off similar issues, first in China, then in Europe.  While the Brexit may now be off the table thanks to relentless scare tactics used against the British citizens by the ECB and their Top 1% chain-pullers, just having the UK remain does nothing to fix the underlying problems that made them want to leave in the first place.  
France was one of many hot spots in Europe where rioting broke out on May Day (in celebration of workers) as labor "reforms" pushed by the Banksters and their pet Government are adding work hours while taking away pensions and benefits – all while youth unemployment continues to hover in the 20% range at the beginning of a long, hot summer (another record thanks to, I'm sure, completely natural causes).  These riots can spread like wildfire if the economy fails to improve.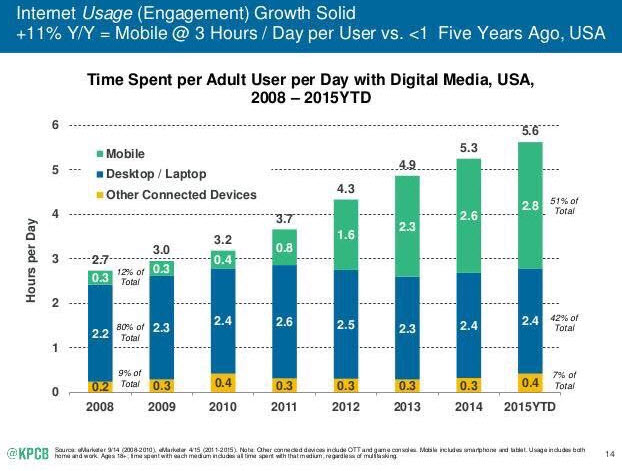 Speaking of labor riots, apparently the US labor force is far too distracted to riot as the average citizen now spends 5.6 hours each day on digital media.  That's up over 100% since 2008 and almost all of the growth has come from mobile phones – which people are now obsessed with to the point where our overall productivity is now being impacted (not to mention TV revenues).
This is what happens in a recession/depression, of course, as people seek to escape their situation in the form of cheap entertainment.  It's what led to the golden age of cinema in the Great Depression and the rise of "must see TV" during the 70s recession (40 years later) and now we have (40 years later) the 2010s recession and people are escaping into their phones.  By 2050, we will all have chips in our head and we'll escape into those and after that – ! 
IN PROGRESS
Provided courtesy of Phil's Stock World.
Would you like to read up-to-date articles on the day they are posted? Click here to become a part of our growing community and learn how to stop gambling with your investments. We will teach you to BE THE HOUSE - Not the Gambler!