InvestorPlace - Stock Market News, Stock Advice & Trading Tips
Just when we thought Chipotle Mexican Grill, Inc. (NYSE: CMG ) was embarking on a solid turnaround, we get more bad news. On Tuesday, CMG stock fell over 4% on reports that Chipotle had to close one of its locations due to customers getting sick again.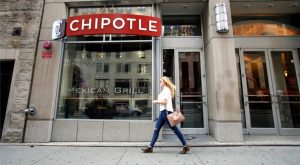 Source: Shutterstock
With CMG back in the news for the wrong reasons, it seems it had made it out of the woods, just to get thrown back in.
Chipotle has never had the most attractive valuation, always trading above its peers. The thesis (before its food-borne illness issues in 2015) was that strong earnings, revenue and same-store sale growth was worth the premium multiple. Investors were willing to overlook valuation today in lieu of strong growth tomorrow. They were banking on more store openings driving higher sales and allowing the fat margins to trickle down to the bottom line.
But then the illnesses came. Many saw it as a one- to two-year hiccup in the growth story. Perhaps it still is. I saw it that way for a long time too.
Chipotle Stock: Where to From Here?
The hardest thing to work with in stocks is the unknown. We don't know what Chipotle's current problem is, how long it will last or if it will happen again. That makes it really hard to pay a premium multiple. Additionally, with all of CMG's food overhaul programs, margins have been on the decline. Throw in higher SG&A spend and rising input and marketing costs and margins are...
More