The equity markets started out 2015 on a ho-hum note, but increasing fears around instability in China and the Fed's timeline for raising rates brought about violent swings. As the likelihood increases that the Fed will tighten rates more than once in 2016, it is believed that this level of volatility will only continue over the next 12 months. However, there are still several sectors that are showing great promise in the new year. Within those hotly coveted industries, we wanted to focus on companies that have strong fundamental outlooks, positive recent revisions to Estimize and Wall Street EPS and Revenue consensus expectations, price momentum, new innovative products, and large secular trends in their industry.
Cybersecurity
While cybersecurity has been running up for the last two years, increased expectations for cyber attacks in 2016 make security related products more crucial than ever before. McAfee Labs 2016 Threat Predictions reports that the number and types of cyber attacks in the new year will run the gamut from ransomware, integrity attacks, and critical infrastructure attacks, with wearables and automobiles being likely attack vectors as well. At the time this went to press the data was not in for 2015, but in 2014 companies reported a 48% YoY increase in attacks. It is expected that 2015 will show another double-digit increase, with that trend only continuing into 2016.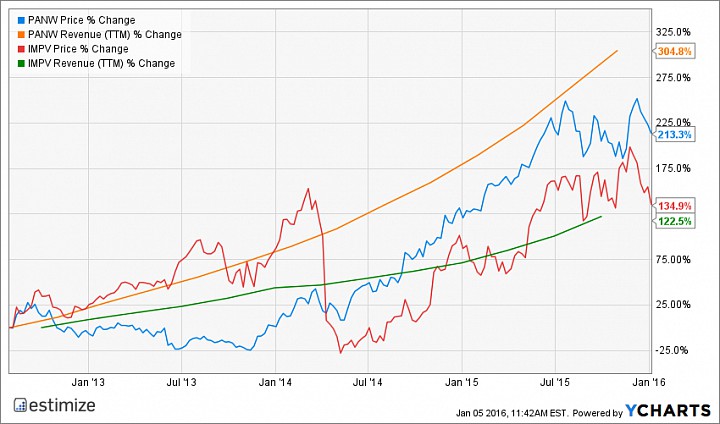 PANW data by YCharts
Reigning Leader
Palo Alto Networks Inc PANW is a pioneer in the industry, and has been crushing competitors such as FireEye and Fortinet. It's EPS results have surpassed the Estimize consensus in the last three quarters, leading to triple digit YoY growth. The revenue pattern is even more impressive, with the company beating estimates for the last 10 consecutive quarters while keeping growth around the 50% mark. By the end of their 2015 fiscal year, Palo Alto boasted more than 26,000 customers. The recent launch of Aperture, a security offering for cloud service providers such as Dropbox and Google Drive, comes with enormous growth opportunities as the number of cloud-based apps are forecasted to grow 30% in the next 3 years.
Hidden Gem
Imperva Inc IMPV is another name on our list, although it is less well known. Estimize tends to have a much higher estimate for Imperva, and the company has easily beat for the last three quarters. Customer base growth has also been on fire, now touting 4,100+ customers in roughly 90 countries. With market cap of roughly $2B, Imperva is potentially an attractive acquisition target. The recent acquisition momentum in cybersecurity has caused an increase in valuations and makes it one of the hottest sectors for M&A.
Enterprise Tech
Another major theme this year is enterprise technology. The US economy is surging and companies are investing in the cloud and in their own growth. There are so many in the space offering a variety of tools and products that are becoming critical for business efficiency.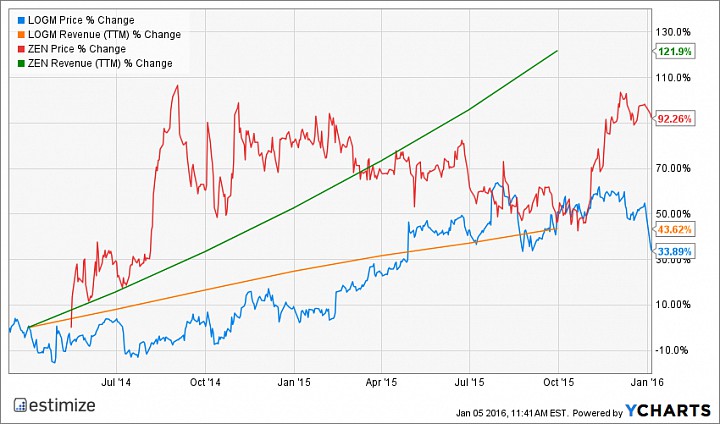 LOGM data by YCharts
Acquisition Target
One such company is LogMeIn Inc LOGM , specializing in software that helps individuals and businesses securely connect to their workplace. The company has beat the Estimize consensus for EPS in five of the last six quarters, while results on the revenue front have been more muted. Its Join.me product was ranked the #1 web conferencing solution in a 2015 survey conducted by Satmetrix, above GoToMeeting and WebEx. It's hard to believe that LOGM is only a $1.75B company which is part of what makes it so attractive. There is so much room for this one to grow with such a solid base to work off of fundamentally. It's also an obvious takeout target by someone like Salesforce.
David vs. Goliath
Speaking of Salesforce, our next pick is Zendesk Inc ZEN, a competitor in the customer data management space that is taking on the big guys. Since IPOing in May 2014, the company has had a laser focus on growing revenues, resulting in top-line growth of 63%+ over the last 4 quarters. While still unprofitable, EPS has been trending in the right direction, and the company regularly beats expectations. As of October, ZEN had over 64k customers, up from 50k earlier in the year, and the percentage of clients with 100 or more seats accounted for 30% of recurring revenue. Recent acquisitions such as We Are Cloud certainly strengthen its portfolio and makes it a formidable contender against similar cloud analytics products from Salesforce and Amazon.
Star Wars
Yes, Star Wars is an investment idea for 2016. Box office experts are predicting that "Star Wars: The Force Awakens" could be one of the top three films of all time, potentially grossing close to $2B worldwide. Currently the film is just $18M shy of surpassing James Cameron's Avatar as the top-selling movie in North American box office history. This of course is great for companies that are tied to the movie.
May the Force be with You
The most obvious is Walt Disney Co DIS, who is producing the film, and has seen FQ1 2016 EPS expectations increase 5% since tickets went on sale. The media giant posted robust results all throughout 2015 and the outlook for 2016 suggests that will continue.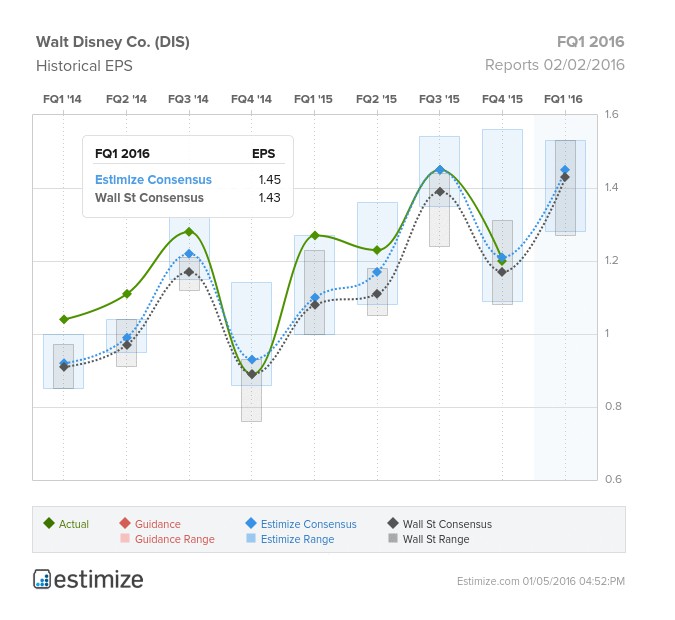 Game On
Electronic Arts Inc EA is another company banking on the success of the film as the maker of the video game Star Wars: Battlefront. Although GameStop reported that initial sales of the game underperformed, EA is expecting revenues to hit a fever pitch with the release of the film, and that 13M copies will be sold by March 2016.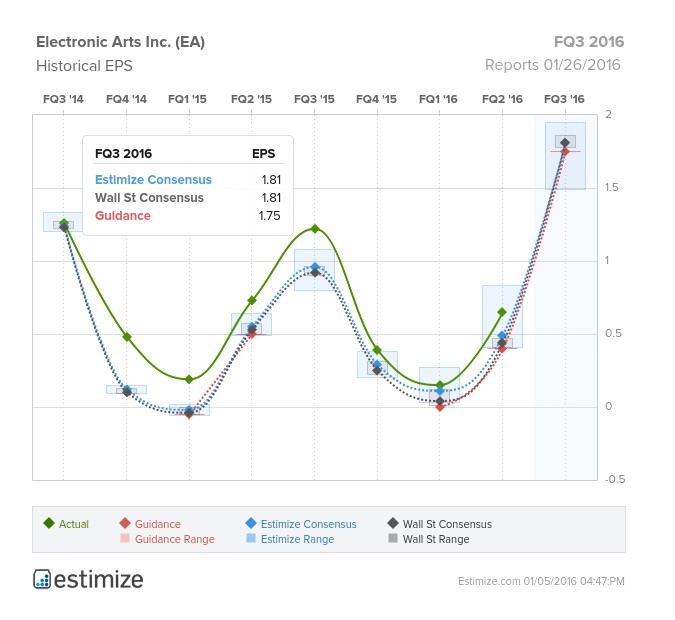 Toy Stories
Last on this list is Hasbro, Inc. HAS which released a collection of Star Wars related merchandise in November. Demand has been so high for the toys that the company suffered from a lack of inventory after the initial release, with sales even exceeding their highest estimates.