I get it. It's the end of the world as we know it. Armageddon has stepped in. The four horsemen of the apocalypse are galloping down Wall Street. The end is nigh.
Guess what people, you're all wrong. We get a small spat of volatility and everyone is freaking out like its 2008. I learned a lot in that downturn and I'm not about to forget everything I learned because the S&P 500 is beginning to sell off a little bit 7 years later.
News flash, the stock market doesn't go straight up. Along the way we get a bunch of pullbacks, retracements, walking to the edge and threatening to jump off the cliff. We just forget all about that sort of thing because we've become soft. There, I said it. We're all turning into the participation trophy investors. This market has rewarded the weak hands that limped in. It's given profits to the amateur who learned how to enter a trade on their own and bought Apple (NASDAQ:AAPL) because their hairdresser thought it was a good stock to buy.
You want a sure thing? Death and taxes. You want to be a big-time trader and investor? Learn from times like this. Test your mettle, forge your fortitude in the fire of a market panic. That's what separates the Pitt from the Poodles. The platinum from the white gold. The women and men from the wimps and the mice. THIS... IS... WALL STREET!
With the market collapsing around you, how do you stand in and make money? Open your eyes and look for the bargains. Buy into the strength. Pick up the names with sound fundamentals that are being beat up with the rest of the market. The babies that have been thrown out with the bathwater.
What better tool could you possibly have than the Zacks Rank? The rank gives us stocks that have seen positive earnings estimate revisions from analysts. These are stocks that analysts think can make more and more money over the short term. These are the stocks you should be looking at and the best stocks to buy on this pullback.
D.R. Horton (NYSE:DHI)
D.R. Horton, Inc., one of the largest homebuilders in the United States, builds high quality, single-family homes designed principally for the entry-level and move-up markets. Founded in 1978, the company builds and sells homes with a geographic presence in the Midwest, Mid-Atlantic, Southeast, Southwest, and Western regions of the United States.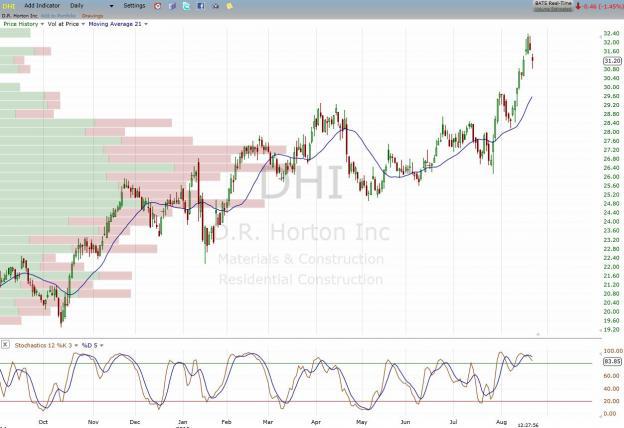 Shares of DHI broke out from the $30 level before the market got rocked. All that drag only pulled shares back about a buck off the 52-week high. Stochastics are still a bit overbought but have come back near 80. With the 21-day moving average below $30, you have a very nice risk/reward scenario shaping up.
Home Depot (NYSE:HD)
Home Depot is the one of world's largest home improvement retailer. The company offers a level of service unprecedented among warehouse-style retailers. Home Depot stores cater to do-it-yourselfers, as well as home improvement, construction and building maintenance professionals. Home Depot currently operates in the USA, Canada, Chile, Puerto Rico, and Argentina. The company also operates EXPO Design Centers across the U.S. and Villager's Hardware in New Jersey.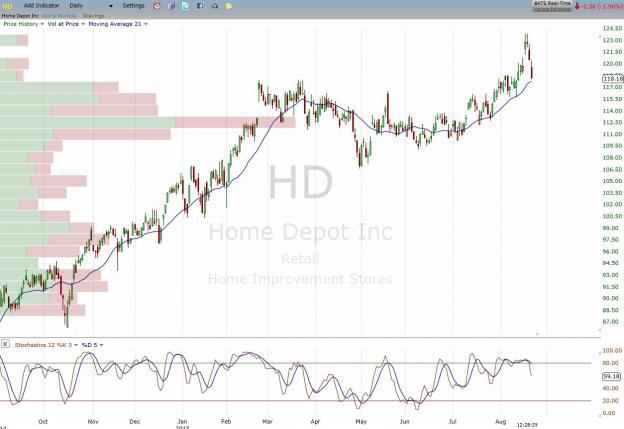 The pullback on Home Depot is textbook right now. Shares have retreated to the 21-day moving average which happens to coincide with the top of the trading range in March. With hurricane season coming up, I expect this stock to break on through to new highs when the market regains its footing.
Post Holdings (NYSE:POST)
Post Holdings Inc. is a manufacturer, marketer and distributor of branded ready-to-eat cereals in the United States and Canada. The company's products are manufactured through a production platform consisting of four owned primary facilities and sold through a variety of channels such as grocery stores, mass merchandisers, club stores, and drug stores. Its portfolio of brands includes diverse offerings such as Honey Bunches of Oats, Pebbles, Post Selects, Great Grains, Spoon Size Shredded Wheat, Post Raisin Bran, Grape-Nuts and Honeycomb.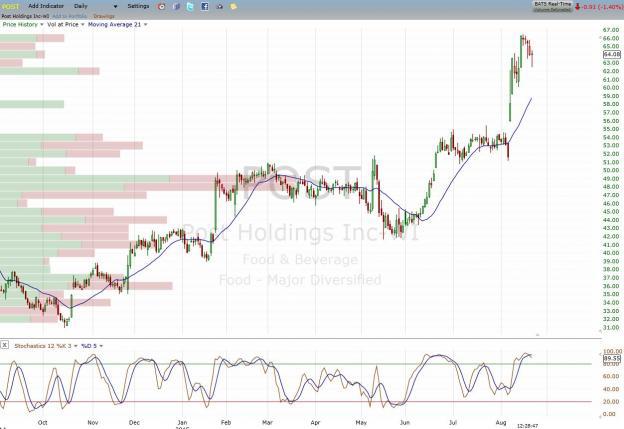 Post took off like a rocket following the last earnings report. Shares probed higher in search of a new fair value area for the stock. Looks like it lost a little steam just above $66, but with a market running down the weak stocks, it speaks volumes that POST has held up. This price level is a new paradigm and a good level to buy at for the next leg higher.
Tempur Sealy (NYSE:TPX)
Tempur Sealy International, Inc. is involved in the development, manufacturing and marketing of bedding products primarily in North America and internationally. It provides mattresses, adjustable bases, pillows and other sleep and relaxation products.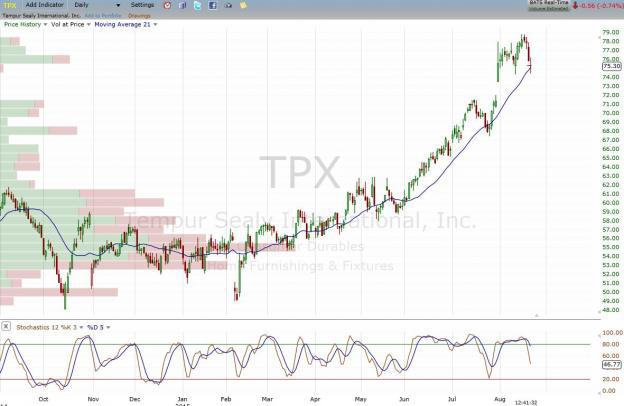 TPX has shown strength all year, rocketing off a bottom near $50 in February. From there shares went nuclear, getting to nearly $79 before the market sold off heavy. The retracement has taken TPX down to the 21-day moving average, setting up a great buying opportunity right now.
T-Mobile US (NYSE:TMUS)
T-Mobile is a national provider of mobile communications services. Based in Bellevue, Wash., T-Mobile US operates its flagship brands, T-Mobile and MetroPCS. It currently serves approximately 44 million wireless subscribers and provides products and services through 70,000 points of distribution.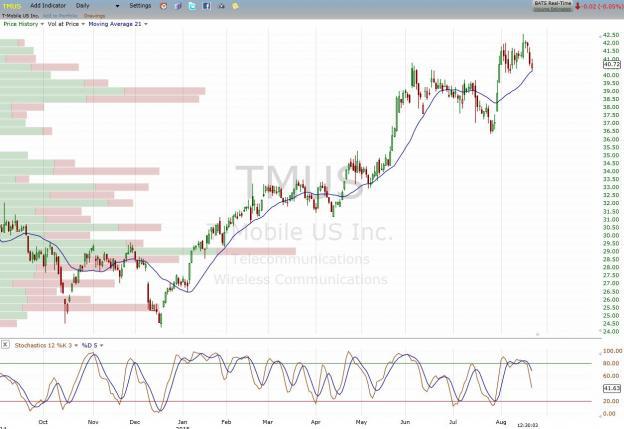 Don't sleep on this mobile provider. Shares have pulled back to the top end of the June range. After leapfrogging the 21-day moving average in late July and breaking to new highs, TMUS has retreated back to the 21-day on a retreating Stochastic indicator. Also, TMUS hasn't broken down through the bullish trend line. Those all scream "Buy" to me.
Bottom Line
Days like this are where money is made in the market. You can't cower and run away from a market like this. You get excited, march in there and scoop up strong stocks that will make it through this volatility. Fortunes are found when investors push through weak emotions to make intelligent purchase decisions. This is your time to shine and these are the stocks to pull you out from the flames.
More