Columbia Sportswear Co. COLM just released its second quarter fiscal 2017 financial results, posting earnings of a loss of 17 cents per share and revenues of $398.9 million. Currently, COLM is a #3 (Hold) on the Zacks Rank, and is up 0.21% to $57.79 per share in trading shortly after its earnings report was released.
Columbia:
Beat earnings estimates. The sportswear retailer reported earnings of a loss of 17 cents per share, surpassing the Zacks Consensus Estimate of a loss of 20 cents per share. Q2 net loss totaled $11.5 million.
Beat revenue estimates. The company saw revenue figures of $398.9 million, topping our consensus estimate of $394.10 million and growing 3% year-over-year.
Columbia's U.S. segment reported 4% net sales growth to $238.2 million, consisting of mid-teen percentage growth in direct-to-consumer net sales, partially offset by a high-single-digit percentage decline in wholesale net sales.
Global Columbia brand net sales increased 2% (3% constant-currency) to $340.5 million. In particular, global SOREL brand net sales grew a whopping 71% (74% constant-currency) to $6.0 million.
Looking ahead, Columbia expectsnet sales growth of approximately 3% compared to fiscal 2016, with operating income growth of approximately 3% to between approximately $256 million and $265 million. The company is also projecting net income growth of up to 4% to between approximately $193 million and $200 million, or $2.74 to $2.84 per diluted share.
Here's a graph that looks at Columbia's price, consensus, and EPS surprise:
Columbia Sportswear Company Price, Consensus and EPS Surprise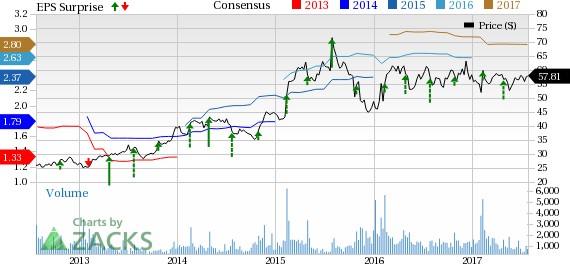 Columbia Sportswear Company Price, Consensus and EPS Surprise | Columbia Sportswear Company Quote
Columbia Sportswear Company is a global leader in design, sourcing, marketing and distribution of active outdoor apparel and footwear, with operations in North America, Europe and Asia. As one of the largest outerwear companies in the world and the leading seller of skiwear in the United States, the company has developed an international reputation across an expanding product line for quality, performance, functionality and value.
More Stock News: Tech Opportunity Worth $386 Billion in 2017
From driverless cars to artificial intelligence, we've seen an unsurpassed growth of high-tech products in recent months. Yesterday's science-fiction is becoming today's reality. Despite all the innovation, there is a single component no tech company can survive without. Demand for this critical device will reach $387 billion this year alone, and it's likely to grow even faster in the future.
Zacks has released a brand-new Special Report to help you take advantage of this exciting investment opportunity. Most importantly, it reveals 4 stocks with massive profit potential. See these stocks now>>
Want the latest recommendations from Zacks Investment Research? Today, you can download 7 Best Stocks for the Next 30 Days.
Click to get this free report
Columbia Sportswear Company (COLM): Free Stock Analysis Report
To read this article on Zacks.com click here.
Zacks Investment Research