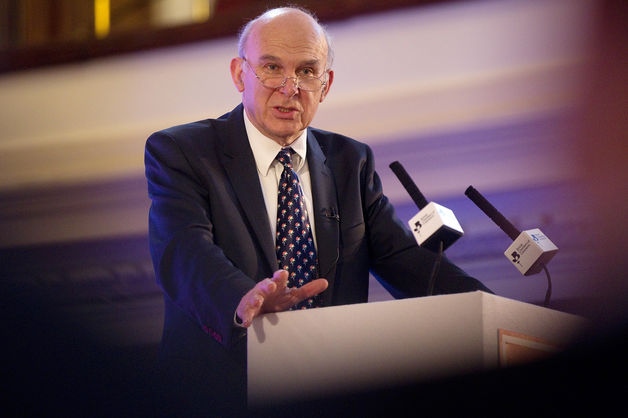 Photographer: Simon Dawson/Bloomberg
Vince Cable, U.K. business secretary.
Britain's Liberal Democratssignaled they'd demand a high price for agreeing to theConservative Party's plan for a referendum on European Union membership in a future coalition.
At the party's annual conference in Glasgow, Scotland, a series of senior Liberal Democrat figures attacked the idea of a referendum, saying it was already discouraging business investment, while stopping short of declaring they would block it in any coalition talks after the May 2015 election.
David Cameron has put the referendum at the top of his negotiating list, saying in 2013: "if I'm prime minister, this will happen." Liberal Democrat Chief Secretary to the Treasury Danny Alexander acknowledged yesterday this would mean his party would have to agree to it.
"Clearly we'd have to be able to come to an agreement which was satisfactory to both parties," he told a fringe meeting at the conference. Still, he said, even the prospect of a referendum was discouraging businesses from investing in the U.K. "The idea that Britain might leave the European Union is looming very large for an awful lot of businesses."
Last month's referendum on Scottish independence has made many politicians rethink how an EU referendum might progress. While Scotland ultimately voted against leaving the U.K., the polling in the two weeks before the vote showed the two sides neck and neck.
Business Secretary Vince Cable said he hoped companies would make their views known in a referendum. "I came up to Scotland frequently during the long campaign and there were businesses that said they didn't want to be publicly quoted -- some of them were frightened that there would be some kind of retribution," he told another meeting on the fringe of the party conference. "If we are getting into an EU referendum, the last thing we need is for companies to be intimidated and prevented from saying what they really think."
http://www.bloomberg.com/news/2014-10-05/lib-dems-signal-hig...