Revised deal gives Rite Aid cash to pay debt as sales erode
Fred's had ambitions to get much bigger fast, but must reset
Pharmacy giant Walgreens Boots Alliance Inc. will soon be bigger -- and a pair of smaller rivals could be left with bigger headaches.
Rite Aid Corp., the distant No.3 U.S. pharmacy operator, agreed to a slimmed-down deal to sell 2,186 stores to Walgreens, the No. 2, after an earlier plan to merge the two businesses looked unlikely to pass muster with U.S. regulators.
The new transaction unveiled on Thursday would see a little less than half of Rite Aid's stores sold to Walgreens -- and still must be reviewed by the same officials who balked at the old, now-scrapped takeover. The pact would give Rite Aid a trove of cash to pay down debt and reposition the company in a market crowded with deep-pocketed, diversified rivals.
For regional pharmacy chain Fred's Inc., the road back could be tougher. Under the busted Walgreens-Rite Aid pact, Fred's would have gained as many as 1,200 stores. Now it faces an even more daunting competitive landscape than Rite Aid, which is likely to lean on its pharmacy-benefits management business as it refashions itself.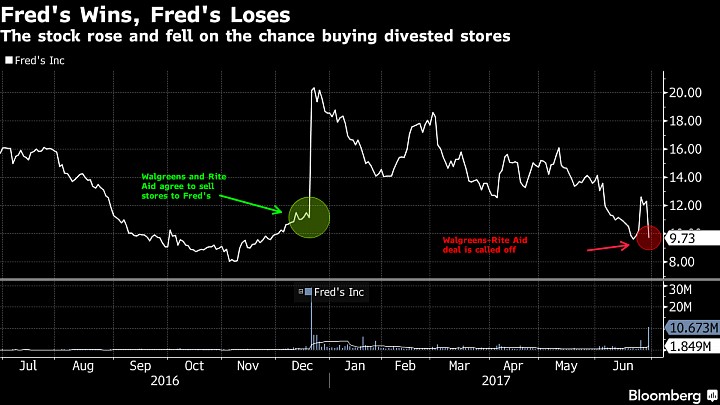 Both Rite Aid and Fred's fell sharply after news of the more modest Walgreens deal emerged. Rite Aid shares slid as much as 30 percent, the most since December 20, 2007, trading at $2.89 as of 3:30 p.m. in New York. Fred's shares sank as much as 27 percent, the most since its 1992 initial public offering.
Reaching a deal that is more limited in scope is a better outcome for Rite Aid than if its initial deal with Walgreens had collapsed entirely, analysts said.
"It really gives them a lifeline whereas there probably wasn't one if they had just gotten the deal scuttled and there was no transaction,"...
More