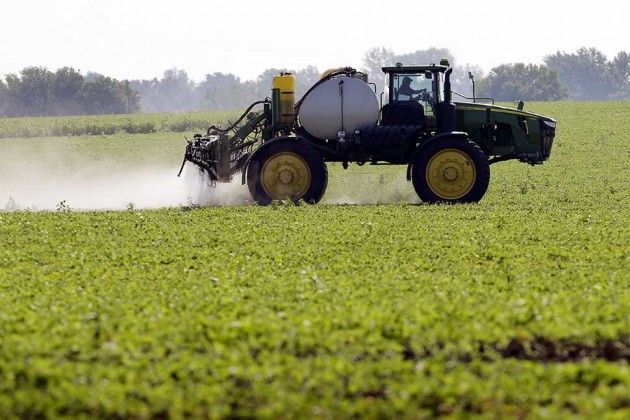 Photograph by Charlie Neibergall/AP Photo
Selling farmers on a new method of fighting weeds is a two-part proposition: The herbicide is sold along with genetically modified seeds designed to survive the spraying. Now, Dow Chemical (DOW) is getting ready to challenge Monsanto's(MON) widely used Roundup Ready crop-and-herbicide combo, with each part of its new product following separate regulatory tracks.
The seeds in Dow's Enlist system—genetically modified corn and soybeans—won approval for commercial use last week from the U.S. Department of Agriculture. The fate of the product lies with the Environmental Protection Agency, which must approve Dow's Enlist Duo herbicide before the system can be successfully marketed.
Dow has been working on the product for about 10 years, during which weeds have become resistant to Monsanto's Roundup, an herbicide based on a compound called glyphosate. The Enlist Duo herbicide will contain glyphosate as well as a new form of 2,4-D, which is already used on other crops like wheat and on pastureland, lawns, and golf courses. Enlist seeds are resistant to both compounds.

Alone, the newly approved Enlist corn-and-soybean seeds aren't of much use, since Roundup-resistant weeds like pigweed will still grow among those crops without the 2,4-D. There are other 2,4-D products already on the market, but farmers have criticized older forms of the herbicide for drifting onto and damaging sensitive crops such as tomatoes and grapes. Some environmentalists, meanwhile, oppose the widespread use of another herbicide, citing health and environmental concerns.If approved, the Enlist system would present a number of opportunities for Dow: selling the 2,4-D-tolerant seed itself, licensing the genetic trait to other seed makers such as Monsanto (the companies already license traits from each other), and selling the Enlist Duo herbicide.
Garry Hamlin, a spokesman for Dow AgroSciences, says the Enlist Duo herbicide is designed to reduce drift and evaporation and that there's no plan to market the Enlist seed by itself for use with other 2,4-D products. That means the EPA's decision will be critical.
The EPA said in an e-mail that it expects to issue a final decision this fall. The agency already proposed to approve the herbicide in April and is still reviewing comments.
Monsanto has no intent to quietly let go of its hold on the U.S. soybean crop. It's working on a solution called Roundup Ready 2 Xtend soybeans, which will be tolerant to not only glyphosate herbicides but also dicamba herbicides. "[We] look forward to the USDA reaching this same milestone in the review of Monsanto's dicamba-tolerant products for cotton and soy," says Monsanto spokeswoman Sara Miller.
http://www.businessweek.com/articles/2014-09-22/why-dows-enl...