The Bank of England (BoE) released its meeting minutes for the July 9-10 meeting. The minutes revealed that the Monetary Policy Committee (MPC) is concerned about wage growth. It also believes growth will be slightly slower in the second half of 2014. All in all, the tone was dovish relative to expectations of a 2014 rate hike. Instead, the MPC seems to be more comfortable waiting it out in 2014 unless wage growth catches up with the strong employment gains we saw this year so far. 
The GBP/USD has been strong because expectations were for a 2014 rate hike. With that expectation tempered, we should see some consolidation at least in the short-term. The 4H chart shows that the reaction to the meeting minutes pushed GBP/USD below a price top. You can even say that cable has just completed a double top.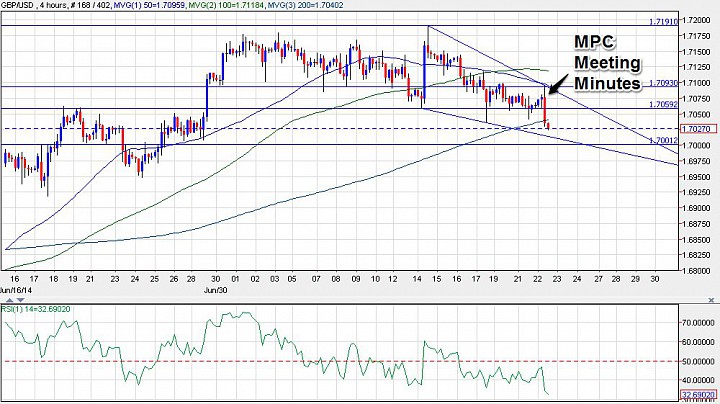 (gbpusd 4h chart, 7/23)
We might find some support at 1.70, which is a support/resistance pivot, especially if the RSI dips below 30, and maybe even gives us a bullish divergence.

If price can respect 1.71 as resistance, it would show respect to the price top, and therefore suggest further bearish correction. A break above 1.17125 might revive the bullish outlook, or at least keep the keep the consolidation sideways instead of bearish.

In the bearish correction scenario, let's take a look at the previous couple of periods of correction in 2014. We can see this in the daily chart - that the previous consolidation periods lasted a little more than a month, The consolidation range was 320-360 pips. 

If we expect a similar type of consolidation/correction, we should expect sideways-bearish action for another couple of weeks with downside risk toward 1.6850 (1.72-350). Again this bearish outlook can gain traction after a pullback fails to push above 1.71-1.7125, and the 4H RSI holds below 60 after dipping below 30. But when the daily RSI approaches 40, be ready for a strong bullish attempt.