Western Digital Corp. WDC reported fiscal first-quarter 2018 non-GAAP earnings of $3.56 per share, which beat the Zacks Consensus Estimate by 26 cents. The figure also came ahead of the year-ago quarter figure of $1.54 and the guided range of $3.25–$3.35 per share.
Revenues increased 9.9% year over year to $5.18 billion and surpassed the Zacks Consensus Estimate of $5.11 billion. The figure was also better than guided.
The year-over-year growth was primarily attributed to growing demand in the company's end markets. Management was particularly positive about the company's flash-based storage segment and joint venture fab operations in Yokkaichi. The ongoing transformation to 3D NAND technology is another tailwind for Western Digital.
Shares of Western Digital have gained 31.6% year to date, substantially outperforming the 17.8% rally of the industry it belongs to.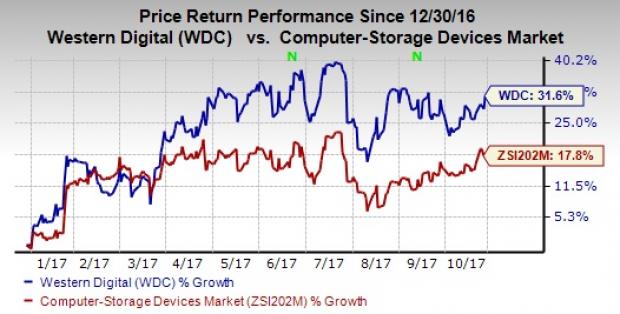 Segment Revenue Details
Client Devices soared 13% year over year to $2.7 billion. Accelerated demand for client solid state drives (SSD) and embedded flash products was beneficial for the segment.
The company began the ramp up of 64-layer based client SSDs for original equipment manufacturers (OEM) during the quarter. The expansion of the product suite increased the adoption of client SSDs in OEM offerings.
Client Solution also surged 16% to $1.1 billion, owing to robust performance of hard disk drive (HDD) and flash-based products. The product launches during the quarter such as iXpand Base and My Cloud Home and a microSD card of 400 gigabytes with the highest capacity to date were the major drivers. These have enhanced the company's global retail brand value further.
Data Center Services and Solutions revenues were $1.4 billion, almost flat on a year-over-year basis. Management noted that the accumulated growth of enterprise SSDs and capacity enterprise hard drives was negated by declining performance enterprise hard drives.
In the capacity enterprise segment, shortage of DRAM supply still remains a concern, resulting in slow petabyte growth during the year. The company expects its 12-terabyte offering to be capable of managing varied workloads as DRAM market tightness reduces.
Management noted that the acquisition of Tegile Systems, a provider of flash storage, is expected to enhance Western Digital's product suite, thereby helping it to meet varied customer requirements. The company's buyout of Upthere, an app-based cloud-storage startup will further enrich its solutions suite.
Joint Venture Dispute
Notably, management is positive about Western Digital's flash memory joint venture with Toshiba, which is currently being taken care of by Sandisk, the company's recently acquired subsidiary. Western Digital intends to seek a court injunction to prevent Toshiba from selling its ownership interests in the joint venture unit to SK Hynix-Bain consortium, without the consent of Sandisk.
Management projects supply bit growth rate of 35% to 45% for calendar years 2018 and 2019, backed by its joint venture partnerships, which are legally compelled to provide it with NAND supply till 2029.
Operating Details
Non GAAP gross margin increased to 42.3% from 33.9% in the year-ago quarter, driven by a favorable supply-demand environment for flash-based products, product cost improvements, a higher mix of flash-based revenue, and strength in the capacity enterprise HDD product line-up.
Non-GAAP operating expenses, as a percentage of revenues, decreased 250 basis points (bps) to 15.8%.
Non-GAAP operating margin was 26.5% compared with 15.6% in the year-ago quarter.
Balance Sheet/Cash Flow
Western Digital ended the quarter with, cash, cash equivalents and available-for-sale securities worth of $7 billion. Net debt decreased around $600 million to $6.3 billion during the quarter, mostly driven by strong cash flow generated from business.
Guidance
For second-quarter fiscal 2018, revenues are expected to be within the range of $5.2–$5.3 billion.
Non-GAAP gross margin is projected to be a bit higher compared with the previous quarter. Total operating expenses are anticipated to be almost $830 million.
Interest and other expense is anticipated to be around $205 million.
Management expects non-GAAP earnings to be in the range of $3.60–$3.70 per share. They also noted that the synergy targets from the acquisitions of HGST and SanDisk are on track.
For fiscal 2018, Western Digital forecasts non-GAAP earnings per share to exceed $13.00.
Notably, Western Digital expects to take microwave-assisted magnetic recording (MAMR) technology into production in 2019. The commercial availability of this technology will aid in the development of higher capacity drives and prove to be a key growth catalyst in the long run.
Zacks Rank and Stocks to Consider
Western Digital has a Zacks Rank #3 (Hold).
Better-ranked stocks in the broader technology sector include Applied Materials, Inc. AMAT, NVIDIA Corp. NVDA and Vishay Intertechnology, Inc. VSH, all sporting a Zacks Rank #1 (Strong Buy). You can see the complete list of today's Zacks #1 Rank stocks here.
The long-term earnings growth rate for Applied Materials, NVIDIA and Vishay is projected to be 17.1%, 11.2% and 20.6%, respectively.
Wall Street's Next Amazon
Zacks EVP Kevin Matras believes this familiar stock has only just begun its climb to become one of the greatest investments of all time. It's a once-in-a-generation opportunity to invest in pure genius.
Want the latest recommendations from Zacks Investment Research? Today, you can download 7 Best Stocks for the Next 30 Days.
Click to get this free report
Western Digital Corporation (WDC): Free Stock Analysis Report
NVIDIA Corporation (NVDA): Free Stock Analysis Report
Vishay Intertechnology, Inc. (VSH): Free Stock Analysis Report
Applied Materials, Inc. (AMAT): Free Stock Analysis Report
To read this article on Zacks.com click here.
Zacks Investment Research