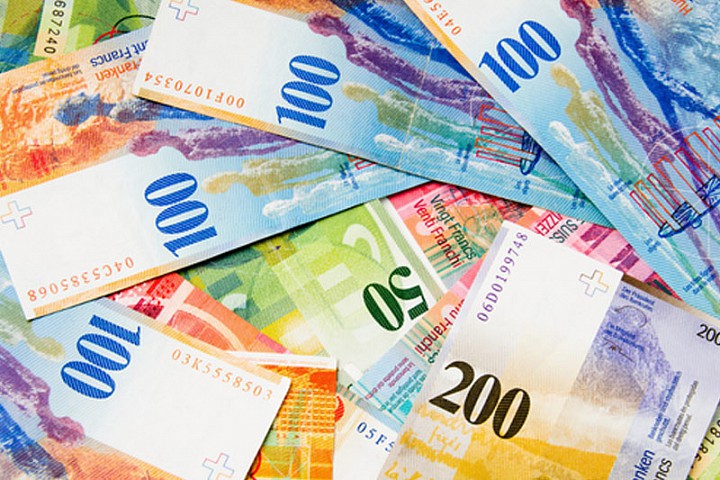 The euro and the dollar rose against the Swiss franc on Friday, one day after the sudden move by the Swiss National Bank to abandon linking its currency unified currency, while the dollar rose to its highest level in 12 years against the euro ahead of monetary easing is expected by the European Central Bank early in the next week.
The euro was the largest decline on record against the Swiss franc on Thursday after the Swiss central bank surprised markets by lowering the exchange rate by 1.20 per euro and imposed in September 2011.
The central bank also cut interest rates to less than zero (negative) interest, in a move designed to stop investors from buying the franc.
He said the SNB Chairman Thomas Jordan Thursday that ceiling exchange rate is "protect the Swiss economy from serious harm," but added that maintaining the interest rate policy in this way will not last in the long term. "
The euro / franc to trade at 0.9930 on Friday evening, recording a gain of 1.75% on the day after falling to its lowest level on record by 0.8696 on Thursday, and ended the week, the index reached a gain of 17%.
The USD / CHF rose by 2.25% to hit 0.8586 late Friday, after being recovered from the lows of $ 0.7360 hit in the previous session. He ended the franc traded achieving gains of 15% against the dollar week.
This step is shocking and formed a large probability by the SNB for actions that quantitative easing by the new European Central Bank at its next meeting scheduled to take place on Thursday.
And issued a temporary ruling last Wednesday, by the European Court of Justice, the European Central Bank Freedom follow-up bond buying program without that there will be legal consequences of the subject.
EUR / USD fell by 0.55% to hit 1.1567 in late trade on Friday, after falling to lows of $ 1.1461 earlier in the day, the lowest price since November 2003.
In other trading USD / JPY rising 1.15% to hit 117.46 in late Friday, recovering from lows recorded overnight at 115.84.
And strengthened the difference in monetary policy between the Fed, which is preparing to raise interest rates and central banks in Europe and Japan than the dollar value of widely in recent months position.
The dollar index, which measures the strength of the dollar against a basket of six major currencies, was up 0.57% to hit 93.05 to achieve gains for the fifth consecutive week, taking advantage of the weakness of the euro.
During this week, investors awaited the outcome of the European Central Bank policy meeting which will be held next Thursday, is also awaiting a press conference held after the meeting.