Looking at the 4H EUR/CHF chart, you can see a bullish breakout from a triangle pattern.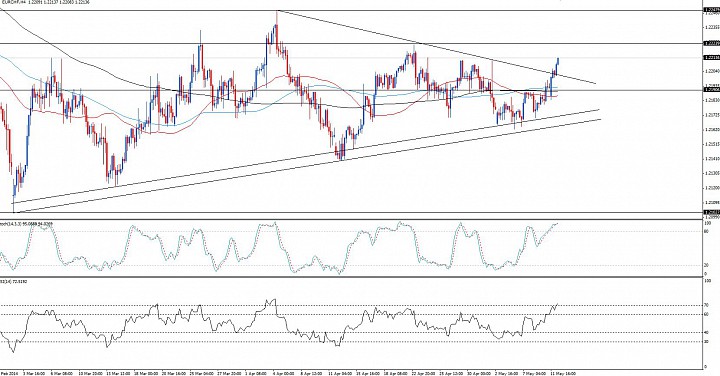 (eurchf 4h chart, 5/12)
Consolidation, triangle:
After failing to push below 1.21, EUR/CHF has been consolidating, going up to 1.2248. In the 4H chart, you see a very mature consolidation as the moving averages are sideways, clustered, and whipped up and down by price action.
You also saw a triangle lower highs, higher lows. The breakout to start this week opens up the 1.2248-50 area. 
Support on throwback:
The 4H chart shows the oscillators getting into the overbought area. If there is a throwback before the 1.2223 resistance pivot, a bullish market should consider support by: 
1) middle of the triangle, 
2) the moving averages, between 1.2185-1.2195, and
3) a previous resistance at 1.2190
Bullish targets:
Holding above this area would make the bullish scenario more likely. Looking at the daily chart, we can see that the next resistance is at 1.2248-50, which is also where the 200-day SMA resides.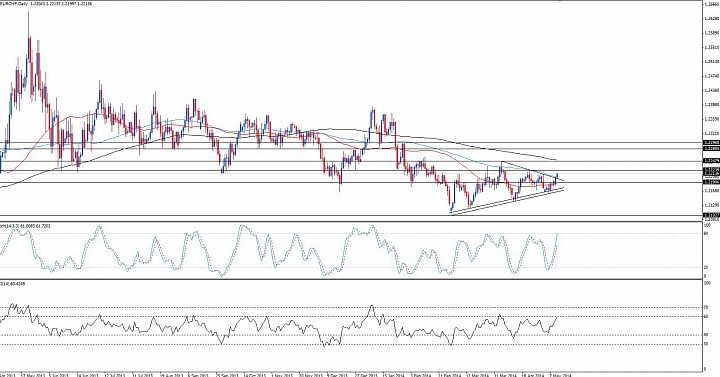 (eurchf daily chart, 5/12)
Above the 1.2250 level, the 1.2280-1.23 area is a key support/resistance pivot area.
Note that this bullish outlook is within the context of a sideways to slightly bearish market going back to May 2013. 
Then the 1.2375-1.24 area, which includes the 2014 high, will be in sight.
Neutral-Bearish scenario:
Failure to hold above 1.2185 however, puts the the focus back toward the 1.21 area since it keeps the market neutral to slightly bearish.