Telefonaktiebolaget LM Ericsson (publ) ERIC recently announced that it has been selected by Japan-based mobile phone operator, NTT DOCOMO, INC., to deliver its Unified Delivery Network (UDN) solution. This is UDN's first foray into Japan. The solution will allow DOCOMO users to access a diverse range of high-quality content.
A global Content Delivery Network (G-CDN), Ericsson's UDN has already been deployed by a large number of content providers across the globe. It improves network capabilities in the public domain, allowing services to be optimized and monetized in new ways. Moreover, it allows service providers to scale the delivery of services, improving customer satisfaction.
Ericsson believes that its UDN network will help DOCOMO scout for new revenue streams around next-generation digital and media services. DOCOMO plans to roll out content distribution services first, followed by value-added features such as toll-free data. DOCOMO believes surging demand for 4K video, virtual reality and augmented reality content will increase the need for UDN.
With the emergence of the smartphone market and subsequent usage of mobile broadband in recent times, user demand for coverage speed and quality has increased. Further, to maintain superior performance as traffic increases, there is also a continuous need for network tuning and optimization.
Ericsson, being one of the premier telecom services providers, is much in demand among operators to expand network coverage and upgrade networks for higher speed and capacity. Over the past six months, Ericsson's shares have gained 10.5%, far ahead of the Zacks categorized Wireless Equipment industry's average gain of 2.6%.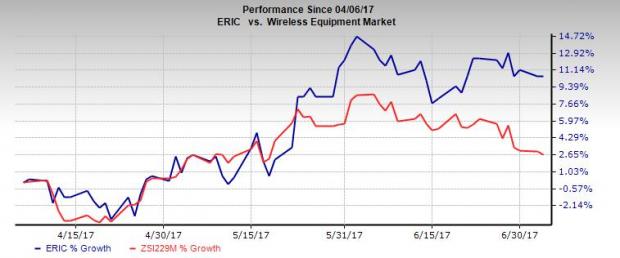 Despite an impressive gain, Ericsson has been facing a host of issues over the past few quarters. Most of the company's troubles stem from drying-up investments from major telecom equipment makers across the world. These companies continue to slash investments in 4G and 3G services while waiting for the introduction of 5G networks. In addition, slowdown in spending by wireless carriers is making matters worse.
The consensus analyst community is not favoring the stock either. The Zacks Consensus Estimate for full-year 2017 earnings has gone down from 29 cents to 27 cents due to two downward estimate revisions versus zero upward. Apart from struggling with a slowdown, Ericsson also has to face sky-rocketing restructuring expenses in its continued efforts to turn around its fortunes.
Furthermore, rising competition in the wireless networking equipment market and ongoing industry consolidation makes us believe that challenging times for the Zacks Rank #5 (Strong Sell) stock are here to stay.
Top Picks
Some top-ranked stocks in the industry are listed below:
Applied Optoelectronics, Inc. AAOI has an outstanding positive average earnings surprise of 118.3% for the trailing four quarters, beating estimates all through. It boasts a Zacks Rank #1 (Strong Buy). You can see the complete list of today's Zacks #1 Rank stocks here.
Adobe Systems Incorporated ADBE holds a Zacks Rank #2 (Buy) and generated an average earnings surprise of 8.1% over the trailing four quarters, with beats each time.
Broadcom Limited AVGO has an average earnings surprise of 6.7%, beating estimates all through, over the trailing four quarters. It sports a Zacks Rank #1.
Today's Stocks from Zacks' Hottest Strategies
It's hard to believe, even for us at Zacks. But while the market gained +18.8% from 2016 - Q1 2017, our top stock-picking screens have returned +157.0%, +128.0%, +97.8%, +94.7%, and +90.2% respectively.
And this outperformance has not just been a recent phenomenon. Over the years it has been remarkably consistent. From 2000 - Q1 2017, the composite yearly average gain for these strategies has beaten the market more than 11X over. Maybe even more remarkable is the fact that we're willing to share their latest stocks with you without cost or obligation. See Them Free>>
Want the latest recommendations from Zacks Investment Research? Today, you can download 7 Best Stocks for the Next 30 Days.
Click to get this free report
Ericsson (ERIC): Free Stock Analysis Report
Adobe Systems Incorporated (ADBE): Free Stock Analysis Report
Broadcom Limited (AVGO): Free Stock Analysis Report
Applied Optoelectronics, Inc. (AAOI): Free Stock Analysis Report
To read this article on Zacks.com click here.