The GBP/JPY has been consolidating in a falling wedge pattern throughout July. The moving averages and the RSI reading in the 4H chart are all showing a shift to a bearish trend/momentum. However, the price structure is a falling wedge, and because of the prevailing uptrend, we should still expect an eventual bullish breakout. In fact, if the bullish outlook is to remain, we should probably start seeing support support above the 172.37 pivot.
GBP/JPY 4H Chart 7/25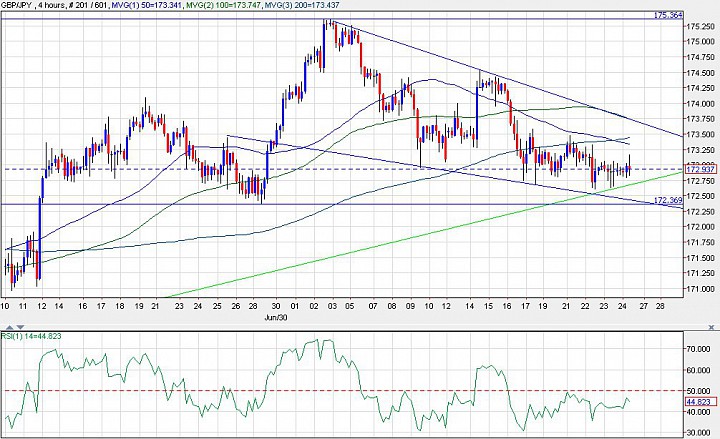 When you look at the daily chart, you can see that price in 2014 have been sideways, but has kept the bullish momentum from 2013. The June breakout to a new high on the year (175.36) also suggests there is more upside to come. If the 172.37 pivot does not hold up, you can watch for 172, or maybe closer to the 170.95-171 pivot. Watching the RSI should help. If the daily RSI reading stalls at 40, and turns up, price should also be establishing a support pivot and attempting a bullish swing. This should trigger a bullish continuation.