How does the old saying go? It's always darkest before dawn? First Solar, Inc. (NASDAQ: FSLR ) can certainly attest to this. As of April, FSLR stock was moving deeper into multi-year-low territory, and couldn't even buy a friend on Wall Street. Since that low, First Solar shares have almost doubled in value, and the company has been upgraded more than a few times.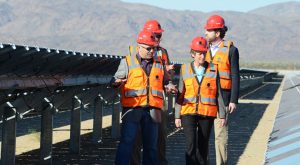 Source:
That's quite the turnaround.
The reversal of fortune of course begs a handful of questions, not the least of which is whether or not this new-found bullishness is built to last.
Obviously there are never any outright guarantees in this business, and no rally lasts forever. But yes, FSLR is the beneficiary of a sea change here.
An Unexpected Upgrade
The prod for today's 4%-plus bullish romp from FSLR stock is an upgrade from Axiom's Gordon Johnson, who upped his rating on the company from a "Hold" to a "Buy," and simultaneously raised his price target on FSLR stock to $51 . He explained:
"Our checks suggest FSLR has delayed its transition to Series 6 technology, instead running its Series 4 production lines longer to accommodate Section 201-based demand (our contacts indicate FSLR is sold out through 3Q18)… With 7 BUYS & 13 HOLDS, we see sell-side sentiment as skewed too negatively (a number of upgrades could be on tap). Annualizing our 3Q17 EPS est. of c80 &...
More