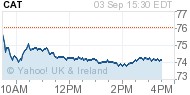 * ECB hints at prolonging bond-buying program
* Intel (Swiss: INTC.SW - news) boosts S&P, Apple (NasdaqGS: AAPL - news) holds weighs
* Joy Global (NYSE: JOY - news) falls after slashing full-year forecast
* Indexes up: Dow 0.37 pct, S&P 0.41 pct, Nasdaq 0.09 pct (Updates to afternoon, adds comment)
Sept 3 (Reuters) - Wall Street rose on Thursday after European Central Bank chief Mario Draghi hinted at additional stimulus measures and ahead of a key U.S (Other OTC: UBGXF - news) . jobs report that could figure in the Federal Reserve's decision about when to lift interest rates.
Major U.S. indices relinquished stronger gains of over 1 percent but stayed in positive territory, with ongoing worries about China's economy on the minds of investors.
"Whether it's in the U.S., Japan or Europe, the market likes quantitative easing," said Joe Saluzzi, co-manager of trading at Themis Trading in Chatham, New Jersey...
More