Earlier this week, 10 members of the Association of Southeast Asian Nations and eight other countries, including China and the US held a summit to discuss defense and security in the South Pacific. Officially, this was the result: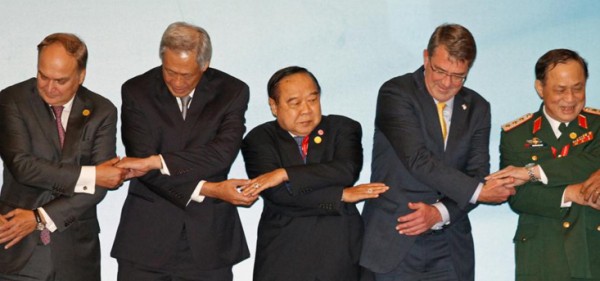 Unofficially, Beijing and Washington reportedly couldn't get past China's Spratly sandcastles, which a US destroyer visited late last month in a show of force thinly disguised as a "freedom of navigation" exercise. Here's WSJ: 
High-level defense talks crumbled over growing territorial disputes in the South China Sea, as the U.S. sought to show strength and assert its role as a counterweight to China.

 

"We couldn't reach a consensus," said Malaysian Defense Minister Hishammuddin Hussein at the conclusion of the Asean Defense Ministers Meeting Plus, which brings together 10 members of the Association of Southeast Asian Nations and eight other countries, including China and the U.S.

 

Mr. Hishammuddin denied that the rivalry between the U.S. and China was disrupting regional diplomacy, but behind the scenes other officials said the U.S. and China had been the main obstacles to any agreement.

 

"The Chinese lobbied to keep any reference to the South China Sea out of the final joint declaration," said a senior U.S. defense official accompanying Defense Secretary Ash Carter at the meeting here.

 

A senior Philippine defense official said China had opposed any declaration that included mention of the South China Sea disputes, while the U.S. had opposed any declaration that omitted it.
For anyone who somehow missed it, the US sent a guided missile destroyer to The South China Sea last month in an effort to prove to Beijing that America is serious about protecting its regional allies who are concerned that the construction of some 3,000 acres of new sovereign territory atop reefs in the Spratlys amounts to an attempt by China to redraw maritime boundaries on the way to establishing a kind of Sino-Monroe Doctrine.
Now, The Pentagon is trying to figure out whether appeasing The Philippines by conducting regular "patrols" around the man-made islands is worth starting World War III. 
Well, it appears as though Washington isn't set to back down and on Thursday, Ash Carter touched down on the American aircraft carrier USS Theodore Roosevelt in true George Bush "mission accomplished" style before promptly delivering a ridiculous speech that invoked the ship's namesake. Here's WSJ again:
Asked about the symbolism of the Roosevelt and the man it was named after, Mr. Carter said he welcomed the military-to-military relationship with China. "TR's motto was to speak softly but carry a big stick, but the 'speak softly' means talk to other people, see what we can do to reach agreement."

 

He noted the stability that has existed in the region for decades, adding: "It would be a shame if people here ruined that."
Yes, just like Teddy, Ash is packing a "big stick" and it would "be a shame" if he had to use it in order to bring about the kind of mass destruction needed to preserve peace and "stability" in the South Pacific.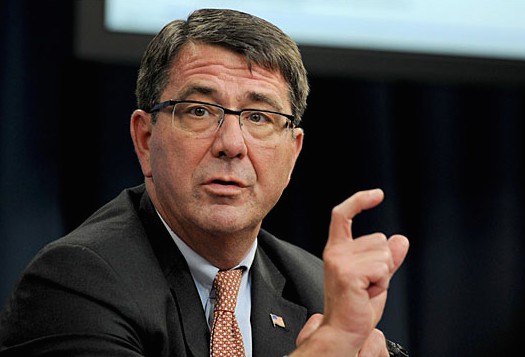 Anyway, just as The Pentagon ratchets up the rhetoric, China made a "goodwill" visit to Jacksonville, Florida. As we noted a few weeks ago, three Chinese vessels conducting an "around the world" tour, were set to dock in the US where sailors will engage in "ship tours and sporting events." Here's CNN:
Sailors from both navies are expected to participate in sporting events and ship tours during the Mayport visit.

 

"Goodwill visits by ships from foreign navies help build trust and foster shared understanding," according to a statement from the U.S. Navy.

 

"Foreign navy ships routinely conduct port visits to Mayport, as ships from Peru and Canada have stopped here in the last few months," U.S. Navy spokesman Cmdr. William Marks said. "Engagements like this and the July 2015 port visit to China by USS Stethem demonstrate a continuous navy-to-navy bilateral relationship between our two countries." 
Yes, "navy-to-navy bilateral relationships," like the type of "relationships" that involve shooting at one another over a group of artificially constructed islands. Here's the clip of China arriving in Florida:
So as you can see, there were plenty of paper mache dragons and other festivities to commemorate the occasion. 
Also note the speech by Rear Adm. Mary Jackson, commander of Navy Region Southeast. Here's a quote:
"No matter what difference exist between cultures, those who serve at sea share a common bond that can only be fully appreciated by sailors. Goodwill engagements such as this help to strengthen that spirit of friendship and understanding."
Jackson may want to explain that to Ash Carter before he ends up sparking a global conflict by waving his "big stick" around on the deck of the USS Theodore Roosevelt.