A little-known stock listed in London has become a trade of choice for investors looking to profit from the technological megatrend known as the Internet of Things.
Telit Communications Plc, which sells hardware that lets everything from vending machines to rental cars transmit data wirelessly, has surged almost sixfold since the end of 2012. This year alone, shares of the company rallied 37 percent through Oct. 9, far outpacing its main industry rivals.
The Internet of Things -- tech speak for the proliferation of connectivity and electronic functionality in everyday items -- will generate hundreds of billions of dollars in revenue in coming years, analysts say. Among the countless companies seeking to profit from it, Telit -- founded in Israel in 1986 -- has emerged as a standout.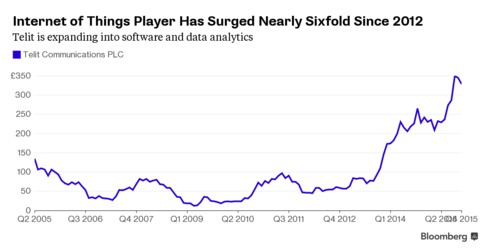 Chief Executive Officer Oozi Cats is trying to boost profit margins by expanding into the more lucrative business of collecting and analyzing the data sent by those "smart" machines. He's also made acquisitions to position Telit as a supplier for Internet-connected cars, one of the fastest-growing areas, according to technology research firm Gartner Inc.
Ankle-Biters
"The world is festooned and swimming with small, ankle-biter companies," said Eric Goodness, a Boston-based analyst at Gartner. "There are very few companies that can say they've been around a long time in the legacy manufacturing and...
More