PayPal Holdings, Inc. PYPL just released its second-quarter 2017 financial results, posting earnings of $0.36 per share and revenues of $3.14 billion. Currently, PYPL is a Zacks Rank #2 (Buy) and is up 3.04% to $60.58 per share in after-hours trading shortly after its earnings report was released.
PYPL:
Beat earnings estimates. The company posted earnings of $0.36 per share (excluding $0.02 from non-recurring items), beating the Zacks Consensus Estimate of $0.33 per share.
Beat revenue estimates. The company saw revenue figures of $3.14 billion, topping our consensus estimate of $3.09 billion.
PayPal's revenue grew 18% in the second-quarter, while the company's earnings per share jumped 27%.
The payment giant reported free cash flow of $747 million and operating cash flow of $921 million. PayPal reported a GAAP operating margin of 13.7%.
PayPal's net new additions were up 80%, adding 6.5 million active customer accounts in the quarter. This helped the company finish the quarter with 210 million total active customer accounts, which also includes 17 million merchant accounts
The company's payment transactions rose 23% to 1.8 billion. The jump helped PayPal's total payment volume also climb 23% to $106 billion.
The company projects its third-quarter revenue to grow between 18% and 20% to reach a range of $3.14 to $3.19 billion. PayPal now expects GAAP earnings per diluted share in the range of $0.30 to $0.32 per share.
For the full-year, PayPal projects its revenue to grow between 18% and 19% to reach a total range of $12.78 to $12.88 billion. The company expects GAAP earnings per diluted share in the range of $1.32 to $1.36 per share.
"The accelerating and extensive scale of our two-sided global platform creates a strong foundation for PayPal's growth, enabling consumers and merchants to transact in new contexts and across operating systems, technologies and platforms," PayPal President and CEO said Dan Schulman said in a statement.
"Our strong results reflect PayPal's transformation from a single product to a platform company, from a vendor to a strategic partner to both merchants and ecosystem players, and from a checkout option to an increasingly more central way for consumers to manage and move their money."
Here's a graph that looks at PYPL's Price, Consensus and EPS Surprise history:
PayPal Holdings, Inc. Price, Consensus and EPS Surprise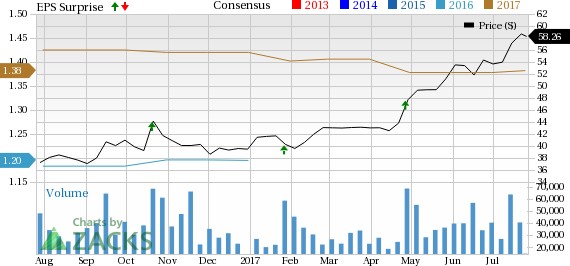 PayPal Holdings, Inc. Price, Consensus and EPS Surprise | PayPal Holdings, Inc. Quote
PayPal Holdings, Inc. is a technology platform company. The Company offers online payment solution which allows customers to pay and get paid, withdraw funds to their bank accounts and hold balances in their PayPal accounts in various currencies. It payment platform includes PayPal, PayPal Credit, Venmo and Braintree products. PayPal Holdings, Inc. is based in San Jose, Californina.
Check back later for our full analysis on PYPL's earnings report!
Want to know even more about PayPal? Read: 7 Fun Facts About PayPal (PYPL) As Stock Nears All-Time High.
The Hottest Tech Mega-Trend of All
Last year, it generated $8 billion in global revenues. By 2020, it's predicted to blast through the roof to $47 billion. Famed investor Mark Cuban says it will produce "the world's first trillionaries," but that should still leave plenty of money for regular investors who make the right trades early.
See Zacks' 3 Best Stocks to Play This Trend >>
Want the latest recommendations from Zacks Investment Research? Today, you can download 7 Best Stocks for the Next 30 Days.
Click to get this free report
PayPal Holdings, Inc. (PYPL): Free Stock Analysis Report
To read this article on Zacks.com click here.
Zacks Investment Research