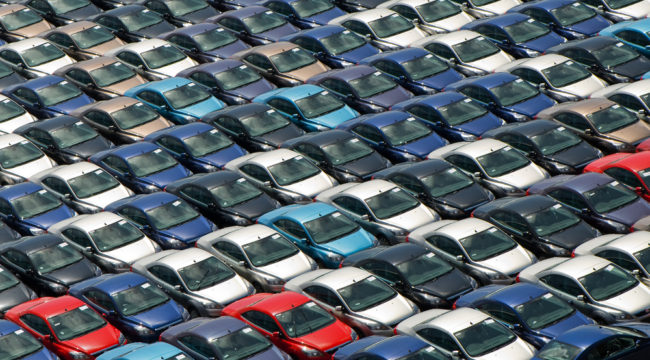 Ben Bernanke's successors at the Fed and other global central banks still don't get it.
Falsified debt prices do not promote macroeconomic stability. They lead to reckless credit expansion cycles that eventually collapse due to borrower defaults. We're now seeing that play out in the auto sector, especially since anyone who can fog a rearview mirror has been eligible for a car loan or lease.
If that reminds you of the sub-prime housing disaster, you'd be right.
That, in turn, will make the looming collapse even worse, due to the sudden drastic shrinkage of credit in response to escalating lender losses.
How did we get here?
Let's start by looking at the Fed. Its reckless monetary reflation cycle in response to the Great Recession caused auto credit, sales and production to spring back violently after early 2010.
Accordingly, that reflation has powerfully impacted the growth rate of total U.S. domestic output. And it's had a massively distorting effect.
Auto production has seen a 15% gain over its prior peak, and a 130% gain from the early 2010 bottom. But overall industrial production is actually no higher today than it was in the fall of 2007. Real production in most sectors of the U.S. economy has actually shrunk considerably.
That means if you subtract the auto sector, there has been zero growth in the aggregate industrial economy for a full decade.
So the auto industry has actually distorted the effects of monetary central planning.
But the real point here is that the financial asset boom-and-bust cycle caused by monetary central planning is making the main street business cycle more unstable, not less. And it means the next auto cycle bust is certain to be a doozy.
It also means the weak expansion of real sales and GDP over the past seven years has been artificially supported by a rapid but unsustainable snapback in the auto sector. But that is now over.
And what I call Carmegeddon will soon be now metastasizing rapidly.
Consider that credit analysis in the auto sector is now being overwhelming driven by the collateral value of the vehicle — not the creditworthiness of the borrower.
Accordingly, when car prices fall sharply, losses from loan defaults will soar. During the last cycle, used car prices peaked in early 2006 and then fell nearly 25% through...
More