After missing both earnings and sales estimates in the second quarter of 2017, Tractor Supply Company TSCO reported better-than-expected results in the third quarter. Also, the company's top and bottom lines increased year over year. Consequently, management raised its outlook for 2017.

However, shares of this Zacks Rank #5 (Strong Sell) company declined 2.5% in the after-market trading session. Furthermore, shares of this farm and ranch store retailer have plunged 23.6% year to date, wider than the industry's decline of 20.4%. The downturn can be mainly due to the company's unsatisfactory first-half 2017 performance.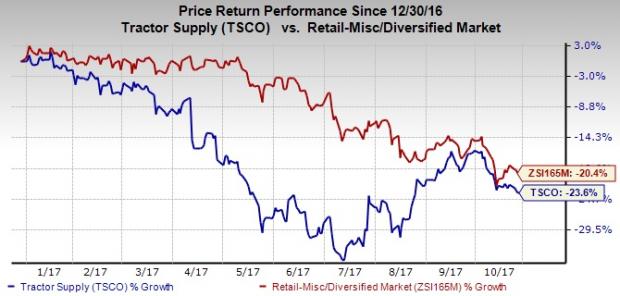 Q3 Highlights

Tractor Supply posted earnings of 72 cents per share that outpaced the Zacks Consensus Estimate of 68 cents, alongside increasing 7.5% year over year. This was driven by higher sales and gross profits.

Moreover, the top line advanced 11.6% to $1,721.7 million and also surpassed the Zacks Consensus Estimate of $1,683 million. Comparable-store sales (comps) improved 6.6%, as against a 0.6% drop witnessed in the year-ago period. On adjusting the 53rd week in 2016, comps would have decreased 1.1% in the prior-year quarter.

The rise in comps was backed by 5% growth in comparable store transaction count and 1.5% increase in average ticket. Further, comps growth was fueled by improvement across all geographic regions as well as major product groups. This also includes robust performance in year-round, seasonal along with emergency response related areas.

Margins & Costs

Gross profit rose 12.2% year over year to $600.5 million with gross margin expanding 20 basis points (bps) to 34.9%. The upside was driven by positive seasonal conditions, disciplined inventory management as well as robust sell through rates, somewhat mitigated by higher mix of freight intensive categories and average fuel expenses.

Additionally, selling, general and administrative (SG&A) expenses, including depreciation and amortization, as a percentage of sales, grew 80 bps to 26.3%. This improvement was primarily owing to greater incentive compensation from robust comps growth year over year, store payroll expenses as well as Petsense integration costs. These were partly offset by leverage in occupancy coupled comps growth and cost-savings initiatives.

Furthermore, Tractor Supply made investments in infrastructure and technology in order to attain its strategic long-term growth targets.

Consequently, operating income margin contracted 60 bps to 8.6% in the quarter under review. Nonetheless, operating income, in dollar terms, rose 4.4% to $148.3 million.

Financial Position

Tractor Supply ended the third quarter with cash and cash equivalents of $70 million, long-term debt of $487.2 million and total stockholders' equity of $1,371.4 million.

The company repurchased 1.4 million shares for $78.5 million in the quarter. With this, Tractor Supply bought back 5.2 million shares for $326.6 million on a year-to-date basis. Further, the company incurred capital expenditures of $152 million in the nine months of 2017 while it generated cash flow from operating activities of about $340.9 million.

Going forward, management expects capital expenditures of $230-$250 million in 2017 versus $250-$270 million, projected earlier.

Store Update

During the third quarter, Tractor Supply opened 36 namesake stores and closed one Del's store. Also, it opened two Petsense stores.

Overall, the company inaugurated 74 namesake stores, closed two Del's stores and converted two Hometown Pet stores to Petsense stores in the nine months of 2017. During this time frame, Tractor Supply opened 19 Petsense outlets (including the aforementioned conversions) as well. Meanwhile, Tractor Supply remains well on track to attain its target of opening 100 flagship stores and 25 Petsense stores in the current year.

As of Sep 30, 2017, the company operated 1,665 Tractor Supply stores in 49 states and 162 Petsense stores across 26 states.

Guidance

Tractor Supply has started witnessing higher demand for cold weather seasonal products in the cold-weather regions, unlike the areas where the weather is warm. Therefore, management believes that it is well placed to benefit from the fall and winter season in the fourth quarter.
Tractor Supply Company Price, Consensus and EPS Surprise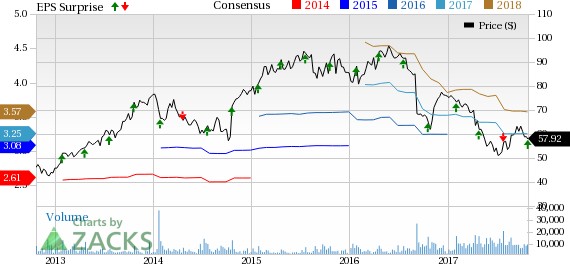 Tractor Supply Company Price, Consensus and EPS Surprise | Tractor Supply Company Quote
Based on the current trends and solid quarterly results, management raised its guidance for 2017. The company now projects net sales in a band of $7.17-$7.22 billion compared with $7.13-$7.19 billion, expected earlier. Comps growth is also guided in a range of 1.7-2.2%, down from the previously guided range of 1.1-1.7% growth. However, Tractor Supply anticipates deflation in the final quarter and 2017 to be about 30 bps.

Gross margin is anticipated to be flat to marginally down in the fourth quarter, owing to the adverse product mix and transportation expenses. Further, operating margin is expected to decline by 70-90 bps.

Also, Tractor Supply envisions earnings per share in a band of $3.25-$3.29 compared with its old forecast of $3.22–$3.27. The Zacks Consensus Estimate for 2017 is currently pegged at $3.25.

Interested in Retail? Check These Three Trending Stocks

Some better-ranked stocks in the broader Retail-Wholesale sector include Conn's, Inc. CONN, Five Below, Inc. FIVE and KAR Auction Services, Inc. KAR. While Conn's sports a Zacks Rank #1 (Strong Buy), Five Below and KAR Auction Services carry a Zacks Rank #2 (Buy). You can see the complete list of today's Zacks #1 Rank stocks here.

Conn's, with a long-term earnings growth rate of 18.5%, has pulled off an impressive average positive earnings surprise of 420.2% in the last four quarters.

Five Below, with a long-term earnings growth rate of 28.5%, has delivered an average positive earnings surprise of 8.7% in the trailing four quarters.

KAR Auction Services, with a long-term earnings growth rate of 15.9%, has come up with a positive earnings surprise of 12.1% in the last quarter.

Looking for Stocks with Skyrocketing Upside?

Zacks has just released a Special Report on the booming investment opportunities of legal marijuana.

Ignited by new referendums and legislation, this industry is expected to blast from an already robust $6.7 billion to $20.2 billion in 2021. Early investors stand to make a killing, but you have to be ready to act and know just where to look.

See the pot trades we're targeting>>
Want the latest recommendations from Zacks Investment Research? Today, you can download 7 Best Stocks for the Next 30 Days.
Click to get this free report
Conn's, Inc. (CONN): Free Stock Analysis Report
Tractor Supply Company (TSCO): Free Stock Analysis Report
KAR Auction Services, Inc (KAR): Free Stock Analysis Report
Five Below, Inc. (FIVE): Get Free Report
To read this article on Zacks.com click here.
Zacks Investment Research