Two things are pushing up the USD/CAD today. 
1) Canada's Ivey PMI came in at 45.4 in January, compared to the 55.4 reading in December. Forecasts called for a reading around 53.8. A print above 50 would reflect businesses growing. However, the 45.4 print showed that businesses shrank in January. This is the first time the index fell to contraction mode in 7 months.
2) Oil prices retreating. WTI Crude oil fell from just a tad above 54.00 down to 50.00.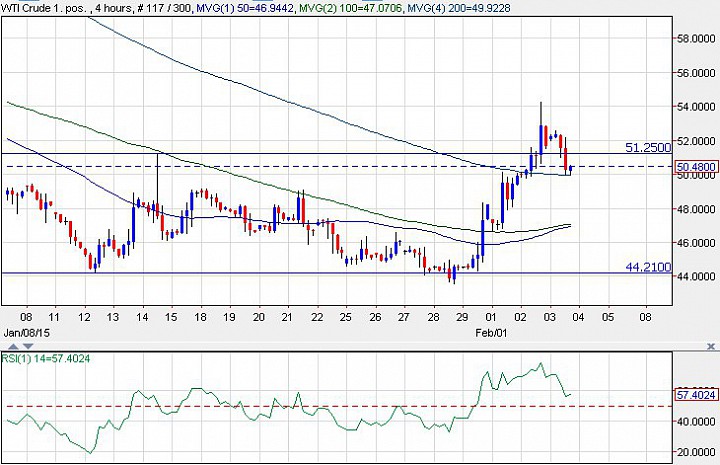 (wti crude oil 4h chart 2/4)
This is a double whammy for the loonie (CAD). 
USD/CAD 1H Chart 2/4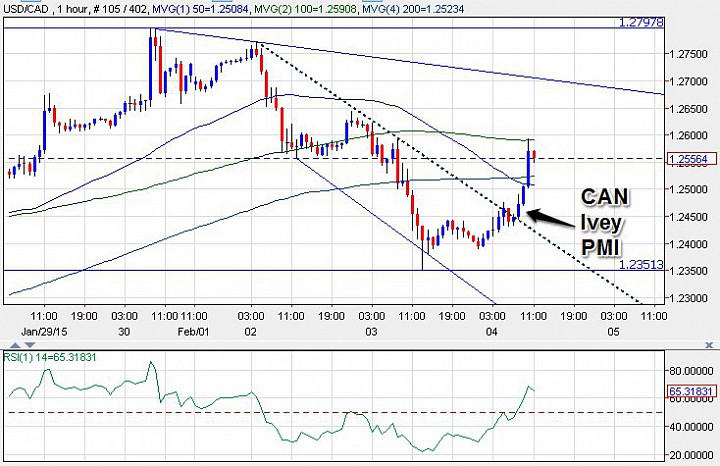 (click to enlarge)
As the 1H chart shows, USD/CAD fell from 1.2798 to 1.2351 before findin support. After a brief consolidation ahead of today's (2/4) data, USD/CAD followed the IVEY PMI report with a surge towards 1.26. 
There is some selling at 1.26, but if price can hold above 1.25, the bullish outlook should remain in play with upside risk to 1.27 (a falling speedline), and then the 1.2798 high on the year. 
If WTI Crude Oil can hold above 50 however, there is a good chance the USD/CAD will hold below 1.27 and the falling speedline seen in the 1H chart, in which case, the mode will remain sideways with a near-term bearish outlook at least back towards the 1.24-1.2450 area.