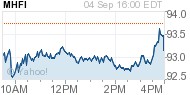 NEW YORK (AP) -- Educational content maker McGraw-Hill Education plans to go public.
Best known as a publisher of textbooks and instructional materials, the company is now investing heavily in developing digital content and technology like its "Reading Wonders" and "Economics: Principles, Problems, and Policies" programs.
It filed for an IPO that was valued at up to $100 million, according to a form filed Friday with the Securities and Exchange Commission.
The New York-based company says its programs are...
More