It will probably not come as a surprise that with oil trading at 6 year lows, and with China barely able to keep the plates spinning,  according to the latest NYSE data, Energy and Industrial were the most shorted sectors as the shorts congregate, having smelled if not blood than ongoing commodity and excess capacity turmoil. What about the remaining 8 sectors?
Here, courtesy of JPM, is the full breakdown of the most, and least, shorted S&P500 sectors.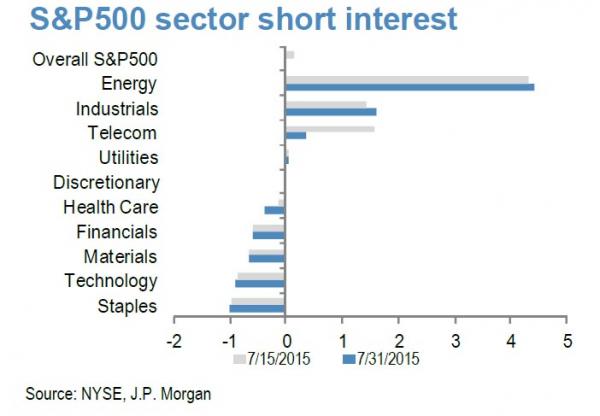 Another way of showing relative investor interest in various asset classes, if not sectors, comes from the following BofA chart showing that discertionary, banks, Eurozone and Japan are substantially overowned, while Energy, EM, Materials and Commodities are almost universally despised, as expected.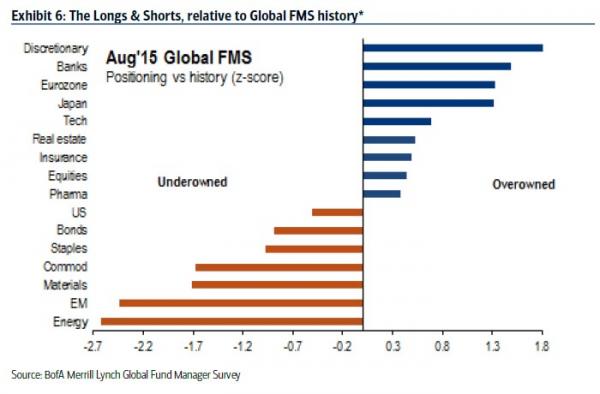 So for anyone betting that the shorting "smart alpha" may have overstayed its welcome and that a vicious squeeze is imminent, if only due to technicals, a contrarian bet would be to go long energy/materials, EM/commodities and staples, while shorting discretionary, bank, Europe and Japan.
In fact, as a BofA client survey shows, some of the firm's clients are starting to aggressively enter Energy, which on a sector basis, was the second most popular vertical, second only to financials.