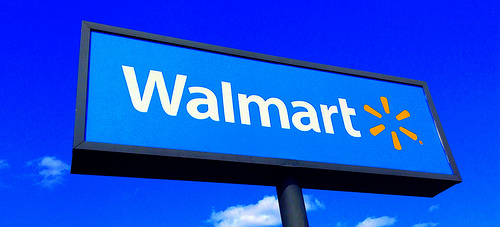 Walmart shares are currently trading at $63.58 after opening at $63.93.
Grocery Market Competition
Walmart (NYSE: WMT) is having difficulties trying to compete against fellow grocery giants Kroger and Publix, according to a recent report, with low customer satisfaction rates partially to blame for the sales decline.
Because half of the company's revenue streams from its grocery market, major sales dips from stiff competition can mean big revenue losses for Walmart in the long run. According to Business Insider, one of the reasons for low customer satisfaction rates when it comes to the company's grocery department may stem from the lack of a competitive loyalty program.
"As competitors like Kroger, Publix, H-E-B, Jewel-Osco and others have invested in evolving customer lifestyle trends – by broadening organic and fresh offerings – and in improving customer service, the gap between both comp-store sales growth and customer satisfaction at Walmart U.S. grocery and supermarket competitors continues to widen," Wayne Hood, an analyst at BMO Capital Markets, wrote in a recent research note, according to Business Insider. 
Amazon Rising in the Ranks
Amazon (NASDAQ: AMZN) recently surpassed Walmart as largest retailer, with online growth sales skyrocketing, pushing past Walmart's market cap and reaching $244 billion, according to Time. Since the beginning of this year, Walmart stock has shot down by about 30%, with revenue up only 2.8% over the past few years, low in comparison to double-digit growth in years prior.
For more business and financial news, click here.