WTI Crude oil has been consolidating after a bearish foray that broke a key support around 45.85 and pushed to 44.50. To me, the breakout opened up a bearish correction scenario in the short to medium-term, with 42.50-43 as the next possible support area. WTI Crude Oil Breaks Triangle Support
WTI Crude Oil 4H Chart 7/18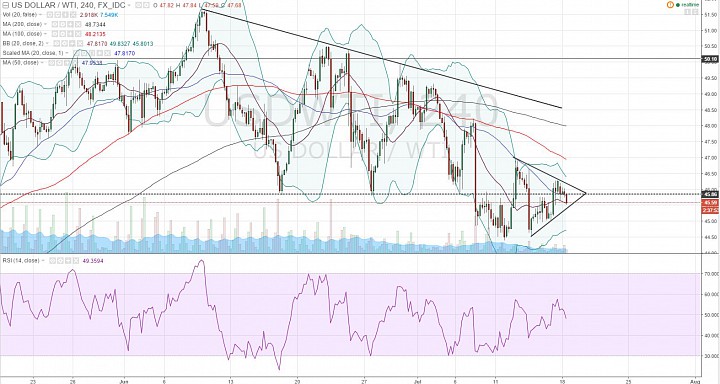 (click to enlarge)
Bearish backdrop:
The 4H chart shows that USDWTI has turned bearish with a break below 45.85. 
Price is consolidating above 44.50 in what appears to be a triangle. 
The RSI has tagged 30, and held below 60, which shows maintenance of the prevailing bearish momentum. 

Bearish outlook:
To me, oil price should be pressured. From a technical perspective, it looks like bears are indeed keeping price pressured. We can see the pattern of lower highs, and now a lower low at 44.50 (vs. previously at 45.85). 
A push below 45 should be confirmation of the bearish continuation outlook to first test 44.50, and then to open up the 42.5-43 area. 

A bearish scenario in WTi Crude should translate into weakness for the CAD. We talked about the USD/CAD holding a slight bullish bias, so let's see if this scenario will indeed pan out.