In this week's video I discuss both Illinois Tool Works (ITW) and McDonalds (MCD). When I am looking to recommend any growth and income stock I first identify companies that have a high Zacks Rank, a solid dividend and good long-term growth expectations. And both ITW and MCD meet all of these criteria and more.
About the company
Illinois Tool Works Inc. (ITW), a Zacks Rank # 2 (Buy) manufactures and markets a variety of products that are used worldwide. The company's products are found in cars, wind turbines, deep-sea rigs, healthcare, aerospace technology, food equipment, mobile devices, and many other items that you use on a daily basis. ITW is a well-diversified company who has been a world leader in innovation for decades. The company generates just over 50% of their revenues in the United States, and has operations around the world.
Drivers behind the purchase
Illinois Tool Works Inc. (ITW) who currently carries a Zacks Rank #2 (Buy) announced earnings on Monday where they easily beat both the Zacks consensus earnings and revenue estimates. Moreover, management increased their FY 2017 EPS outlook by $0.25 (+16% year over year growth), and raised their 2017 revenue guidance by $100 million to $14.3 billion (+5.2% year over year growth). Overall, the company saw increasing revenues, improving margins, organic growth, and EPS expansion during their most recent quarterly report.
Further, the overall outlook for global growth is improving faster than previously expected. This was reinforced when International Monetary Fund's (IMF) increased growth expectations for both 2017 and 2018 (2017 was lifted by 0.1% to +3.6%, and 2018 was revised by +0.1% to +3.7%). This improved global economic outlook is very beneficial to ITW as it sells industrial products and equipment in 57 different countries.
Earnings History and Improving Estimates
The company has beaten the Zacks consensus earnings and revenue estimates in 7 out of the last 8 quarters. Further, due to the strong quarterly performance and increased EPS guidance, analysts have positively revised their estimates for both 2017 and 2018.
Price and Earnings Consensus Chart
This is a great example of the kind of chart I want to see when adding a position to the service. Solid price appreciation, and consistent growth in year over year earnings estimates.
Illinois Tool Works Inc. Price and Consensus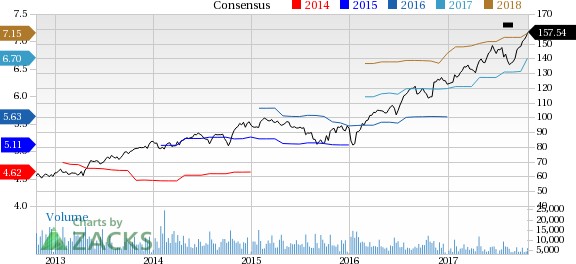 Illinois Tool Works Inc. Price and Consensus | Illinois Tool Works Inc. Quote
This is a stable, high quality company that has consistently beaten both earnings and revenue estimates that pays a nice +2.01% dividend yield. Further, ITW is considered a dividend aristocrat (a company that has increased their annual dividend for at least 25 consecutive years), so we should expect to see a bump in the dividend over the next 12 months as well.
McDonald's (MCD) holds a Zacks Rank #2 (Buy) and over the past several quarters their international reach has been a strong tailwind for the company which has driven sales above expectations in four of the last five quarters. The new meal options and innovation have been a large part of their sustained success, and people across the globe are visiting the famous chain more and more. This was reflected in their recent same store sales (SSS) data, High-Growth Markets (China) +6.2%, Foundation Markets (Japan) +10.2%, International Lead Markets (Europe, Canada) +5.7% and even at home as SSS were up +4.1%.
Another attractive part of the McDonald's story is managements Velocity Growth Plan, which is focused on "long-term profitable growth." Part of this strategy was to refranchise over 4,000 restaurants in China and Hong Kong, and management accomplished this goal in Q3, a year ahead of schedule. Also, part of the growth plan is the adaptation of both mobile ordering and paying along with delivery. While the investments in these new technologies will be a slight headwind in the near term, these new innovations are expected to benefit sales in the long term. And as we are looking to hold this company for at least a year, this is an overall positive for the portfolio.
Because of the positive earnings report, impressive same store sales, and management's long term growth plans, analysts have raised both 2017 and 2018 EPS guidance once again. This is reflected in the Price and Earnings Consensus graph below. And as I mentioned before, I really like carts that show solid price appreciation along with year over year EPS guidance increases.
McDonald's Corporation Price and Consensus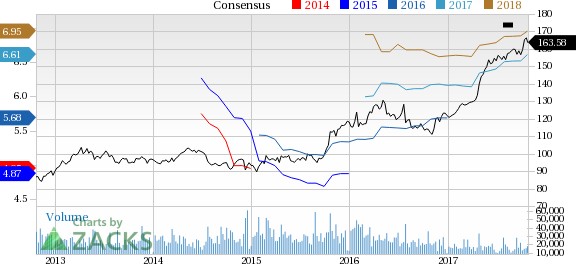 McDonald's Corporation Price and Consensus | McDonald's Corporation Quote
McDonalds also has a solid annual dividend of $4.04 with a yield of +2.47%, and is a dividend aristocrat (has increased their dividend payments each year for the past 25 years or more). So we are adding a company that has solid growth prospects with an increasing dividend.
Looking for Stocks with Skyrocketing Upside?

Zacks has just released a Special Report on the booming investment opportunities of legal marijuana.

Ignited by new referendums and legislation, this industry is expected to blast from an already robust $6.7 billion to $20.2 billion in 2021. Early investors stand to make a killing, but you have to be ready to act and know just where to look.

See the pot trades we're targeting>>
Want the latest recommendations from Zacks Investment Research? Today, you can download 7 Best Stocks for the Next 30 Days.
Click to get this free report
Illinois Tool Works Inc. (ITW): Free Stock Analysis Report
McDonald's Corporation (MCD): Free Stock Analysis Report
To read this article on Zacks.com click here.
Zacks Investment Research