Hope some people out there were able to
take advantage of the EUR/NZD call I made last week
, as the pair did fall further after topping out. The pair is now in an interesting spot as we've had markets price in both weaker EUR factors and a strong NZD employment report.
Here's the 4-hour chart of
EUR/NZD
: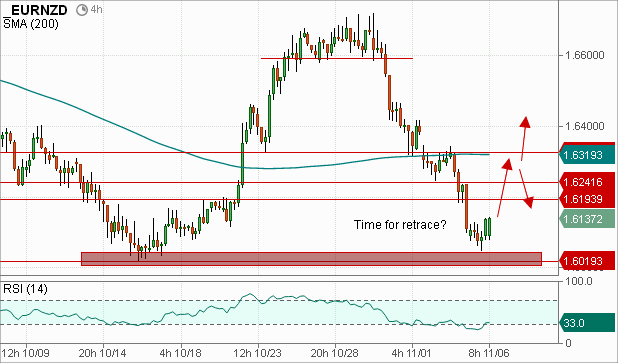 With the pair falling from the 1.67 handle all the way down to 1.6050 over the span of a week, my idea now is that we are a bit oversold, and may build some support here for a retracement rally of the downswing.
 We see this pair having buying demand around these levels (down to 1.60) in mid-October.
The RSI is quite heavily oversold (though this is also an indication of the strength of bears at the moment).
Important upside targets will be 1.6180, 1.6240, and 1.6320.

That would bring us back to around the 50% retracement of the recent downswing from which we can see either the downswing resume or a further retracement (in other words, we'd have to re-assess the conditions for the pair).

Basically, if the ECB/Draghi do not deliver an extremely dovish viewpoint in their meeting, or if US data sends fears of earlier than expected tapering through commodity linked currencies like the NZD, then we can have the sentiment conditions for a rally from here.