When we discussed last month's JOLTS report - Janet Yellen's favorite labor market indicator - we used one word to describe it: "schizophrenic", because while the BLS reported that job openings in April soared to the highest on record, hiring crashed, confounding not only economists, but also the supervisors of BLS goalseekers who "came up" with the number. Fast forward to today, when moments ago the latest JOLTS report summarized, with its usual 2 month lag, the labor situation in the US. And, once again, we have one term to describe it, or rather two: "reverse schizophrenic", because it was the inverse of everything that was an outlier in last month's report: as job openings crashed by 301K from a downward revised 5.967MM (the original number was 6.044MM) to 5.666MM, far below the expected 5.950MM, and indicative of a job openings rate of 3.7% vs 3.9% last month...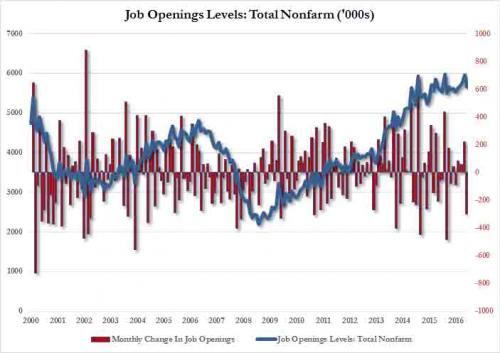 ...hiring exploded by 429,000 to 5.472MM, the second highest monthly print on record, following the lowest total hires number since April 2016.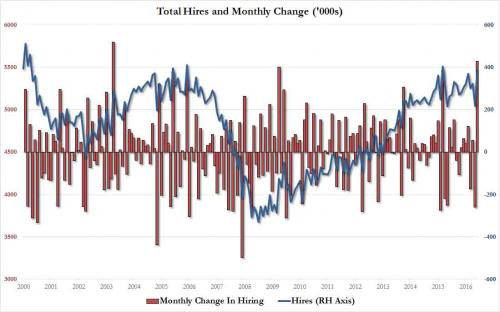 Confirming the bizarre surge in hiring is the next chart which shows the Y/Y change in hiring. The 6.2% increase in new hires was the highest going back to March 2016, and was far above the recent trendline of no hiring growth observed over the past year.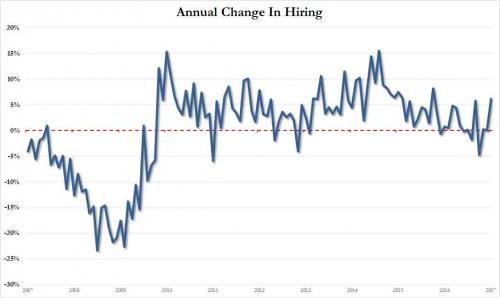 Which leads to our favorite chart: hiring vs payrolls, and where after the previously noted stumble in hiring in April, the two series have miraculously converged once again, suggesting the labor market in terms of payrolls and net hiring (less separations), is now aligned.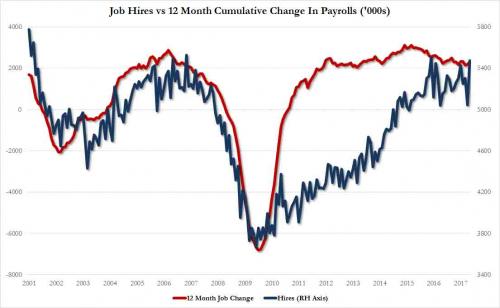 Last but not least was that other key indicator, the "quits" rate, or the "take this job and shove it." As a reminder, Americans only quit their jobs when they are confident they can find a better paying job elsewhere, and following April's steep drop in quits, it would appear that US workers are once again confident, as the number of Quits in May surged by 177K to a new record high of 3.221 million, the biggest monthly increase since December 2015.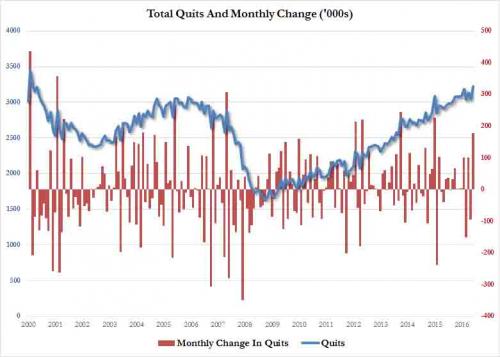 Overall, a mixed JOLTS reports, with several trading desks once again at a loss how to describe the inherent schizophrenia of plunging job openings and near record hiring; furthermore as a reminder, JOLTS tends to be goalseeked retroactively during major inflection points in the payrolls series. Which is why with the BLS recently reporting that job additions in recent months had declined substantially - at least until the June bounce - it may soon be time for the BLS to take a long, hard look at yet another downward JOLTS revision.