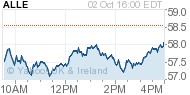 DUBLIN--(BUSINESSWIRE)--
Allegion plc (NYSE: ALLE), a leading global provider of security products and solutions, has proposed a registered public offering of senior notes, subject to market and other conditions.
The senior notes expected to be issued by Allegion will be guaranteed upon their issuance by Allegion U.S. Holding Company Inc., Schlage Lock Company LLC and Von Duprin LLC, which are each wholly-owned subsidiaries of Allegion.
Allegion intends to use the net proceeds from the senior notes offering to repay a portion of the outstanding borrowings under its senior secured revolving credit facility.
J.P. Morgan Securities LLC, Goldman, Sachs & Co., Wells Fargo Securities, LLC, Credit Suisse Securities (USA) LLC, Merrill Lynch, Pierce, Fenner & Smith Incorporated, BNP Paribas Securities Corp. and Citigroup Global Markets Inc. are acting as joint book-running managers.
Allegion has filed an effective registration statement with the U.S. Securities and Exchange Commission (SEC) for the offering and encourages investors to read it (including the accompanying prospectus and...
More