Intercontinental Exchange, Inc. ICE reported third-quarter 2017 adjusted earnings per share of 73 cents, which beat the Zacks Consensus Estimate by 2.8%. The bottom line improved 14% on a year-over-year basis.

The quarter witnessed increase in data service revenues. Lower expenses aided operating margin expansion.
Intercontinental Exchange Inc. Price, Consensus and EPS Surprise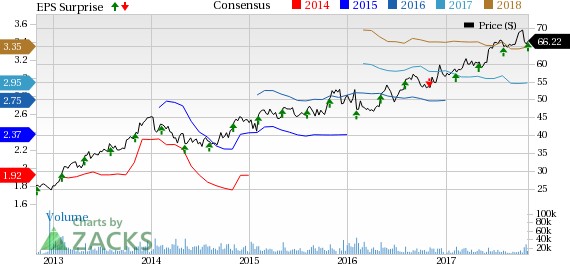 Intercontinental Exchange Inc. Price, Consensus and EPS Surprise | Intercontinental Exchange Inc. Quote
On a GAAP basis, net income was 62 cents per share, up 9% year over year.

Performance in Detail

Intercontinental Exchange's revenues of $1.1 billion increased 6% year over year on higher data service revenues. Results however came almost in line with the Zacks Consensus Estimate.

Total operating expenses decreased 9.4% year over year to $547 million, primarily driven by lower compensation and benefits, professional service, acquisition-related transaction as well as integration costs.

Operating income improved 25.7% year over year to $596 million. Operating margin thus expanded 800 basis points to 52%.

Financial Update

At the end of the reported quarter, Intercontinental Exchange had cash and cash equivalents of $419 million, up 2.9% from Dec 31, 2016. Long-term debt of $4.9 billion increased 25.7% from the 2016-end level.

Total equity was $15.9 billion as of Sep 30, 2017 compared with $15.6 billion as of Dec 31, 2016.

Capital Deployment

Intercontinental Exchange paid back more than $1 billion to shareholders year to date. The company remains on track to pay back $1.4 billion in 2017.

The board of directors approved a $1.2 billion share buyback program and quarterly divdends of 20 cents.

Guidance

Adjusted operating expenses are estimated between $475 million and $485 million while GAAP operating expenses are estimated between $540 million and $550 million for the fourth quarter.

Interest expense is projected to be $50 million in the fourth quarter.

Intercontinental Exchange's share count for the fourth quarter is likely to be in the range of 585-595 million.

Our Take

Results of Intercontinental Exchange reflect a solid performance. The company remains well-poised for growth, given its strength in energy franchise, increasing the recurring market data revenues and strategic initiatives. The company remains focused to enhance its shareholders' value.

Intercontinental Exchange stated that it is on track to exceed its original 2017 synergy target while investing in growth initiatives in 2018.

Intercontinental Exchange presently carries a Zacks Rank #3 (Hold). You can see the complete list of today's Zacks #1 Rank (Strong Buy) stocks here.

Among other securities exchanges, the bottom line at CME Group Inc. CME and Nasdaq, Inc. NDAQ beat the respective Zacks Consensus Estimate while the same at MarketAxess, Inc. MKTX missed the estimates last quarter.

Zacks' Best Private Investment Ideas

While we are happy to share many articles like this on the website, our best recommendations and most in-depth research are not available to the public.

Starting today, for the next month, you can follow all Zacks' private buys and sells in real time. Our experts cover all kinds of trades… from value to momentum . . . from stocks under $10 to ETF and option moves . . . from stocks that corporate insiders are buying up to companies that are about to report positive earnings surprises. You can even look inside exclusive portfolios that are normally closed to new investors.
Click here for Zacks' private trades >>
Want the latest recommendations from Zacks Investment Research? Today, you can download 7 Best Stocks for the Next 30 Days.
Click to get this free report
Intercontinental Exchange Inc. (ICE): Free Stock Analysis Report
CME Group Inc. (CME): Free Stock Analysis Report
Nasdaq, Inc. (NDAQ): Free Stock Analysis Report
MarketAxess Holdings, Inc. (MKTX): Free Stock Analysis Report
To read this article on Zacks.com click here.
Zacks Investment Research