The recent week was exceptionally positive for investors. From September 29th until October 7th the S&P500 advanced by 6%. This jump followed ten days of constant decline which started just after the FED's announcement of no interest rate hike in September. The soft growth in China and the strong dollar concerns also contributed to the negative sentiment, and indeed from September 17th to the 29th the markets were down by 6%.
Last Friday's news regarding the weaker than expected Job report has expedite the rally in the markets and the S&P500 is now about half way between the bottom which was set back in August 25th at 1,867 points and the 2,134 all times high back from May.
The SPDR S&P 500 Trust ETF's (NYSEARCA: SPY) graph of 2015 tells the story of the market trend. The narrow trading tunnel that we got used to in the first eight months was disturbed by a shocking drop in late August. A drop that was followed by high levels of volatility.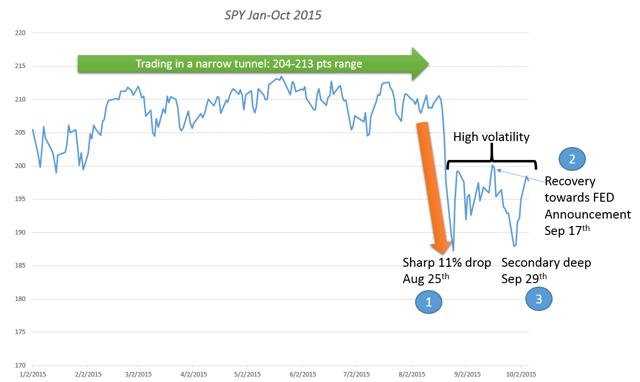 Has the train left the station for good?
Following the recent positive trading days there is a feeling that this correction is over. Moreover, there are those who might have the feeling that they missed the train of getting into the market while at proper or attractive valuation levels.
Do not chase the market
Financial investment is ninety percent psychology: Those who bought in the lows should feel, at this point in time, brave and happy. Those who sold are probably less joyful and those who waited might feel that they lost a great opportunity just because of their hesitancy.
Investors should rise above any feelings of...
More