Independent natural gas operator Southwestern Energy Company SWN reported third-quarter 2017 adjusted earnings of 6 cents per share, which missed the Zacks Consensus Estimate of 7 cents. However, the bottom line improved from 3 cents in the year-ago quarter.
Quarterly operating revenues of $737 million lagged the Zacks Consensus Estimate of $785 million but rose substantially from $651 million recorded in third-quarter 2016.
Higher lease operating expenses along with reduced contribution from the midstream business led to the lower-than-expected results. This was however partially offset by higher realized oil and gas prices.
Production and Realized Prices
During the third quarter, the company's total production increased almost 10% year over year to 232 billion cubic feet equivalent (Bcfe).
The company's average realized gas price in the quarter, including hedges, rose to $1.97 per thousand cubic feet (Mcf) from $1.73 per Mcf in the year-ago quarter. Oil was sold at $40.49 per barrel compared with the year-earlier level of $35.41. Natural gas liquids were sold at $14.47 a barrel compared with $7.04 in the prior-year quarter.
Segmental Highlights
Adjusted operating income from the Exploration and Production (E&P) business unit was $69 million in the third quarter, up from $42 million in the year-ago quarter. Higher realized prices for liquids and natural gas supported the improvement. However, increased operating expenses partially marred the results.
On a per-Mcfe basis, lease operating expenses were 91 cents compared with the prior-year quarter level of 86 cents. General and administrative expenses per unit of production were 23 cents, in line with the prior-year quarter.
Operating income for the Midstream Services unit was recorded at $43 million, excluding gain on equipment sale in the third quarter, down from $52 million in the year-ago quarter. Lower gathered volumes following Fayetteville Shale's decreased production primarily led to the decline.
Q3 Price Performance
During the July-to-September quarter, Southwestern Energy gained 0.5% as compared with the industry's 5.1% rally.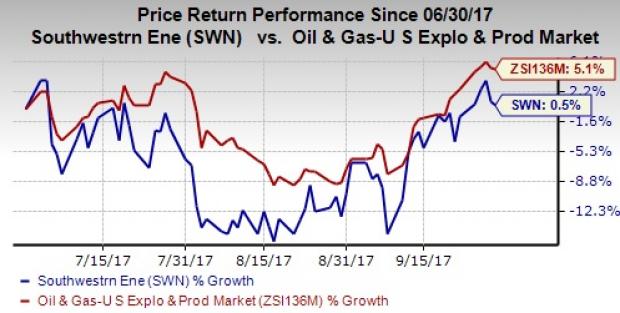 Capex and Debt
The company's total capital expenditure in the first nine months of 2017 was approximately $946 million. As of Sep 30, the company's long-term debt was $4.4 billion, which represents a debt-to-capitalization ratio of 72.7%.
Zacks Rank & Key Picks
Southwestern Energy currently carries a Zacks Rank #3 (Hold). A few better-ranked players in the energy sector are Par Pacific Holdings Inc. PARR, Northern Oil and Gas, Inc. NOG and Canadian Natural Resources Limited CNQ. All the stocks sport a Zacks Rank #1 (Strong Buy). You can see the complete list of today's Zacks #1 Rank stocks here.
Headquartered in Houston, TX, Par Pacific managed to beat the Zacks Consensus Estimate in three of the last four quarters, the average earnings surprise being 195.26%.
Based in Minnetonka, MN, Northern Oil and Gas is an upstream energy player. The company's 2017 revenues are estimated to grow 44.1%.
Canadian Natural, headquartered in Calgary, Canada, is primarily an upstream energy firm. The firm will likely witness year-over-year earnings growth of 234.8% in 2017.
Wall Street's Next Amazon
Zacks EVP Kevin Matras believes this familiar stock has only just begun its climb to become one of the greatest investments of all time. It's a once-in-a-generation opportunity to invest in pure genius.
Want the latest recommendations from Zacks Investment Research? Today, you can download 7 Best Stocks for the Next 30 Days.
Click to get this free report
Southwestern Energy Company (SWN): Free Stock Analysis Report
Par Pacific Holdings, Inc. (PARR): Free Stock Analysis Report
Canadian Natural Resources Limited (CNQ): Free Stock Analysis Report
Northern Oil and Gas, Inc. (NOG): Free Stock Analysis Report
To read this article on Zacks.com click here.
Zacks Investment Research