Merck MRK announced that the FDA has granted a tentative approval to Lusduna Nexvue, the company's biosimilar version of Sanofi's SNY Lantus (insulin glargine) for treatment of people with type I and type II diabetes. Lusduna Nexvue delivers insulin in a pre-filled dosing device.
Note that the candidate was formerly known as MK-1293. The FDA has granted a provisional approval to its trade name Lusduna Nexvue, to be used once the product is made available in the U.S.
Merck's shares have underperformed the industry so far this year. The stock has gained 6.9% compared with the broader industry's increase of 13.2%.

Though Lusduna met all the regulatory safety and efficacy standards, the approval is tentative due to an ongoing litigation with Sanofi. The final approval of Lusduna is subject to a resolution of the Sanofi litigation.
In September last year, Sanofi sued Merck for patent infringement on Lantus. The litigation automatically invoked a stay on the final FDA approval of Lusduna for up to 30 months, or in the event, a court rules in favor of Merck, whichever is sooner. Notably, Lantus has been a major contributor to the Sanofi's top line having accounted for 14.1% of the total sales in 2016.
However, the company considers the conditional approval as a significant milestone as it is advancing the candidate another step closer to the market.
We remind investors that Merck is developing Lusduna in collaboration with Samsung Bioepis. Under the agreement terms, Merck is responsible for clinical development, manufacturing and commercialization, while Bioepis is partially funding the development.
Currently, an application for regulatory approval of Lusduna for treatment of patients with type I and type II diabetes is under review in the EU.
We remind investors that Eli Lilly and Company LLY is already marketing a "follow-on" insulin glargine product, Basalgar, since Dec 2016.
In a separate press release, Merck announced a collaboration with Pfizer PFE modernization of pharmaceutical packaging with the introduction of corning valor glass that enhances the storage and delivery of drug formulations.
Merck & Company, Inc. Price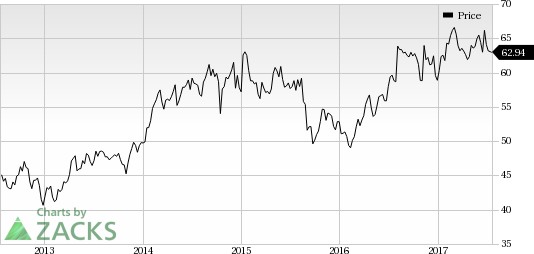 Zacks Rank
Merck currently carries a Zacks Rank #2 (Buy). You can see the complete list of today's Zacks #1 Rank (Strong Buy) stocks here.
Will You Make a Fortune on the Shift to Electric Cars?
Here's another stock idea to consider. Much like petroleum 150 years ago, lithium power may soon shake the world, creating millionaires and reshaping geo-politics. Soon electric vehicles (EVs) may be cheaper than gas guzzlers. Some are already reaching 265 miles on a single charge.
With battery prices plummeting and charging stations set to multiply, one company stands out as the #1 stock to buy according to Zacks research.
It's not the one you think.
Want the latest recommendations from Zacks Investment Research? Today, you can download 7 Best Stocks for the Next 30 Days.
Click to get this free report
Sanofi (SNY): Free Stock Analysis Report
Pfizer, Inc. (PFE): Free Stock Analysis Report
Eli Lilly and Company (LLY): Free Stock Analysis Report
Merck & Company, Inc. (MRK): Free Stock Analysis Report
To read this article on Zacks.com click here.
Zacks Investment Research