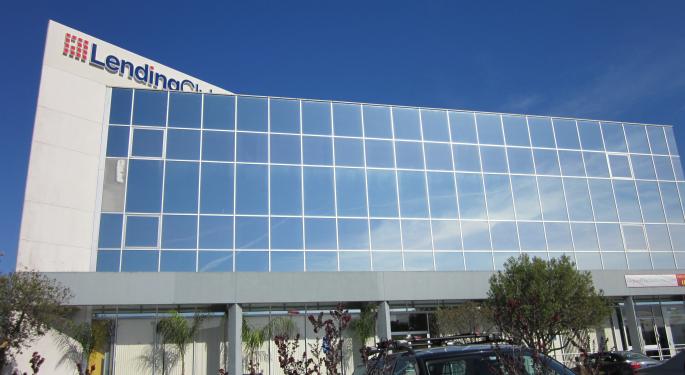 More than the third-quarter results, the market is positive on LendingClub Corp LC 2.54%'s encouraging comments that it has been able to get key investors back the platform, including the larger bank partners.
Rating Remains At Hold, However
However, Canaccord Genuity's Michael Graham prefers to remain on the sidelines, as banks are still only 15 percent of origination volume, below the targeted 25 percent. In addition, though transaction yields rose, higher operating costs weighed on margins.
"Volume from banks is likely to take a while to ramp back to normal levels, but the company maintains that early signs are positive," Graham wrote in a note.
Good News Abounds
Meanwhile, LendingClub's new auto loan product is expected to roll out beyond California in the first half of 2017. Graham believes this new segment should increase the total addressable market as the company targets the $283 billion used auto loan market in the United States.
The analyst noted that the outlook for more normal growth and margins in 2017 is "firming," despite expectations of costs to stay at a "temporarily high level" in the fourth quarter.
That said, the company's limited commentary on the 2017 outlook has made the analyst cautious.
"However, management is providing very little regarding views on structural growth and we think that the set of possibly 2017 outcomes is sufficiently diverse to warrant a continued HOLD rating," Graham continued.
Analyst's Reaction
As such, Graham cut his 2016/2017 EPS estimates to ($0.12)/$0.07 from ($0.09)/$0.22 to account for a slower ramp up of originations and greater opex. But, he raised his price target by $1 to $7.
Shares of Lending Club closed Monday's trading at $5.91. At last check, the stock was down 2.71 percent at $5.75 on Tuesday.
Image Credit: By BrokenSphere (Own work) [CC BY-SA 3.0 or GFDL], via Wikimedia Commons
Date
Firm
Action
From
To
Nov 2016
Morgan Stanley
Upgrades
Equal-Weight
Overweight
Oct 2016
Craig-Hallum
Upgrades
Hold
Buy
Oct 2016
Wedbush
Initiates Coverage On
Underperform
© 2016 Benzinga.com. Benzinga does not provide investment advice. All rights reserved.