Summary
Stocks have very little to look forward to over the next couple of months, but they have lift off to Fed rate hikes to worry about.
The S&P 500 has not experienced a 10% correction in 45 months, versus its average of 1 every 26 months, so it is well overdue.
Capital flows are likely to turn negative as institutional funds close their books and take risk of the table into the close of their year-ends.
While a correction is possible now, if economic growth justifies Fed tightening, I expect stocks would recover any abrupt losses by the end of the year or January.
Risk of a market correction is heightened now, so I suggest investors go to at least 20% cash now to prepare for what could be a special buying opportunity.
The Dow fell for its seventh straight day Friday and the S&P 500 (NYSEARCA:SPY) was testing its 200-day moving average. Stocks are at high risk now due to the building anticipation and anxiety about the detrimental impact of imminent interest rate hikes and an increasing cost of capital for corporations. Stocks, in my opinion, are showing signs of a potential market correction and they are well overdue for one. However, when stock prices decline precipitously they open up special buying opportunities for long-term investors. For as long as the economy justifies tighter monetary policy, stocks can relatively quickly recover any lost ground on a correction. As a result, I'm suggesting investors go to at least 20% cash in preparation for a new buying opportunity when/if stocks correct over the next 1 to 3 months.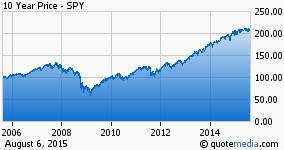 Stocks as depicted here by the 10-year chart of the SPDR S&P 500 have come a long way in this economic and market recovery. However, they are now severely endangered by the approach of Fed liftoff to rate hikes. While normalized interest rates are justified and necessary, they mean a hike to the cost of capital of American corporations.
If you raise the cost of capital broadly for America's corporations, then the discounting of stocks to reflect that higher cost is appropriate. Future cash flows will face a higher burden toward generating economic value, which in turn drives market value. The threshold for return on invested capital thus increases for it to overcome the cost of capital in order to add to value for shareholders. If we are discounting back forward cash flow estimates at a more costly level, then the intrinsic value of corporations comes down on a discounted cash flow basis. Analysts may not have properly accounted for this change.
The fact that interest rates have been at zero for so long may have led some analysts to lower cost of capital expectations despite historical evidence for a base level. In that case, downward adjustments to value estimates would occur along with an adjustment to the unwise view that free money could last. If price targets start coming down as a result, well it would not be a good thing. Whether they do or not, it would be clear that stock value targets were likely inflated based on the special capital cost environment we have enjoyed over the past several years.
We have not had a 10% correction of the S&P 500 in four years or 45 or so months. Normally, one occurs every 26 months. This is in fact the third longest winning streak in history for stocks. As we all know, streaks don't last forever and the longer they run the more likely they are to end. So, we are well overdue for a market correction.
The fact that the Fed will not meet to possibly raise interest rates until September means we have too much time to worry about it. Thus, there's a ceiling in place against stock rise now, and very little reason to expect it. This same environment has existed now for several months and stocks have traded in a range, swinging higher and lower on economic data, international developments and Fed rumor and innuendo. That is not the mention the danger related to the freedom Fed members have to speak their minds. This coming Monday, Atlanta Fed President Lockhart, a voting member of the FOMC, is set to address a group. When last he spoke publicly, Lockhart stirred up market concern by stating that he would need to be dissuaded from voting to raise rates in September. The employment data released Friday was hardly surprising or market moving, and yet it fueled further concern that the Fed could in fact act in September.
Meanwhile, we are approaching a time period in which institutional fund managers close their books for the year (September - October). Those with decent enough paper gains may lift risk and those concerned about capital preservation may do the same. Thus, I believe there's a likelihood of a selloff of significant magnitude picking up energy from itself near-term. Capital preservation potentially becomes a key focus of investors from now through that September Fed meeting or through October. Why hold risk now?
Thus, I suggest investors take some risk off the table and go to cash, at least 20% cash. Long-term investors willing to bear a crash, with expectations for recovery by end of the year or end of January, should probably go on a long trip as it may be hard to bear watching otherwise. Having cash on the side now will potentially allow you to buy your favorite stocks post-correction at excellent entry points.
More