Seven of the people officials are monitoring most closely for signs of Ebola are health workers who had close contact with a man in Dallas who is fighting for his life against the virus, the Centers for Disease Control and Prevention said yesterday.
The man, Thomas Eric Duncan, is in critical condition at Texas Health Presbyterian Hospital, after being downgraded from serious condition. "We understand his situation has taken a turn for the worse," CDC Director Tom Frieden said yesterday during a conference call, and he is "fighting for his life," Frieden said during an interview on CNN.
Frieden said yesterday that the patient wasn't getting any experimental drugs. However, Candace White, a hospital spokeswoman, today said that Duncan had gotten Chimerix Inc.'s experimental medicine brincidofovir, starting on the afternoon of Oct. 4.
Barbara Reynolds by telephone, a CDC spokeswoman responded that she was unsure if CDC had the information yesterday. "We've been trying hard not to say anything that was not said by the hospital," she said today.
Anti-Viral Drug
Chimerix's brincidofovir is being developed as an anti-viral drug for use against adenovirus and cytomegalovirus. For those diseases, it is in the third and final stage of clinical testing required by U.S. regulators before approval.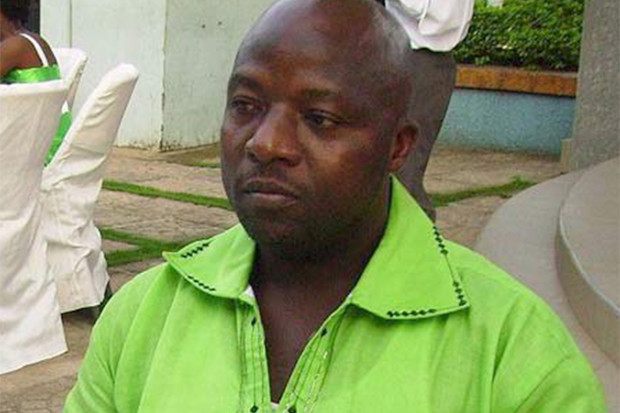 The U.S. Food and Drug Administration will allow its emergency use in Ebola patients, the Durham, North Carolina-based company said today. The hope it will work is based on test tube studies that suggest the drug is active against Ebola, the company said in a press release. Brincidofovir has been tested on Ebola virus in the lab, though never in humans for Ebola, according to the company. Animal studies in Ebola are under way, Chimerix said.
Chimerix is also talking with governments and international health organizations about using brincidofovir to treat Ebola patients outside the U.S., said Joseph Schepers, a spokesman for Chimerix. He declined to give further details.
Chimerix rose 4.7 percent to close at $31.47 in New York. The shares have doubled so far this year.
Brincidofovir is an "attractive option" for government stockpiling as a potential Ebola treatment since it already met safety requirements in trials for other viruses, Piper Jaffray analyst Joshua Schimmerwrote in a Oct. 2 note to clients.
Close Watch
There are 10 people health officials are watching closely, some under quarantine, who are thought to have had direct contact with Duncan while he was ill and contagious. About 40 others who are considered lower risk are also being monitored.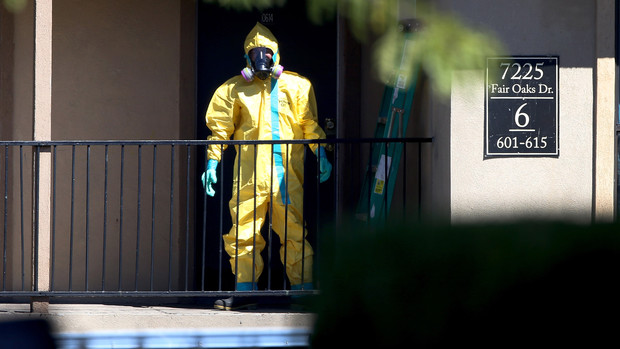 Texas Governor Rick Perry, a Republican, said today in Austin that he was creating a task force to prepare for more cases in the state, if the virus, or another disease, should develop into a future outbreak. "This task force will develop a comprehensive, long-term plan to ensure Texas deals effectively with any potential outbreak."
The CDC has taken an aggressive approach to containing any spread of the virus in Dallas, and is checking any suspected cases where people with a recent travel history in West Africa show an early sign of what could be Ebola. So far, no one else has been diagnosed with the virus in the U.S.
"We have no doubt we will stop it in its tracks in Texas," Frieden said.
Africa Outbreak
The outbreak has sickened more than 7,000 in Liberia, Sierra Leone and Guinea, killing about half. Health officials around the world are trying to stop its spread.
In Madrid, a Spanish health-care worker was diagnosed with Ebola after working at a hospital where two other Ebola patients have been cared for. The worker, a nurse, is the first case of a health worker becoming infected outside of West Africa.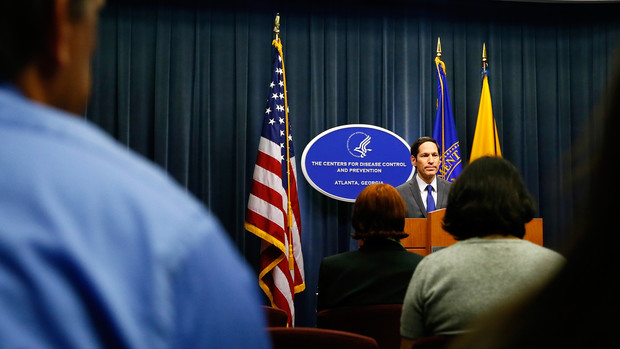 Another patient, Ashoka Mukpo, an American journalist who contracted the virus in Liberia, arrived at the University of Nebraska Medical Center today.
Mukpo's symptoms, which include fever and nausea, have not worsened since he was diagnosed last week, Brad Britigan, dean of University of Nebraska's college of medicine, said in a press conference. He is being evaluated and the hospital has not made any decisions on whether to give him experimental drugs, Britigan said.
'Compelled to Go'
Mukpo's family said he likely contracted the virus while disinfecting a vehicle that carried someone with Ebola. His father Mitchell Levy said Mukpo was in Liberia because previous work he'd done there with an aid organization caused him to empathize with their plight.
"He felt compelled to go back to Liberia," Levy said at the press conference today. "I asked him if he was crazy; I did everything I could to dissuade him."
Anthony Fauci, the U.S.'s top infectious disease expert, said yesterday he wouldn't be surprised if one of the people who had close contact with the Ebola patient in Dallas becomes ill. Fauci, head of the National Institute of Allergy and Infectious Diseases, and Frieden appeared on four TV talk shows to stress that U.S. health authorities are taking measures to prevent an outbreak here, even if another case appears.
If any of the people potentially exposed in Dallas develop fever, they will be isolated, tested, and if they have Ebola, they will be given appropriate care and officials will determine if they had contact with other people, Frieden said.
Texas health officials sought to reassure people that hospitals are safe and that people should seek medical attention immediately if they are worried about Ebola.
"We're all on high alert right now and that's where we believe it should be," David Lakey, commissioner of the Texas Department of State Health Services, said during yesterday's news briefing.