Shares of Public Storage will reach $230 in medium term

18 september 2015
I remain upbeat about the shares of Public Storage, a real estate investment trust engaged in the acquisition, development, ownership, and operation of self-storage facilities in the United States. With a market cap of over USD 35 bn, Public Storage boasts of interests in more than 2,250 self-storage facilities in the US and also enjoys a significant presence in Europe.
Public Storage's second-quarter 2015 results were solid. Backed by strong top-line growth, the company's quarterly funds from operations (FFO) rose 8% to $2.15 per share. Reported FFO also beat consensus estimate and reflected an increase in net operating income from both same-store and non-same-store facilities. An improving US economy results in higher product usage, while supply remains limited. Amid this favorable demand/supply imbalance, growth in the company's revenue, occupancy and same-store net operating income is expected to continue.
In August, Public Storage opened a new self-storage facility in Denver. The move increased the number of locations being operated by the company in the larger metropolitan area to an even 50. Besides, the company opened a new energy-efficient self-storage facility in Miami. The facility is positioned in a commercial corridor which has businesses and homes nearby, including those occupied by the students of the University of Miami and Florida International University. As such, the region witnesses high demand for storage facilities particularly during the summer months.
Having one of the strongest balance sheets in the sector, Public Storage has been capitalizing on growth opportunities in the US markets through acquisitions as well. It acquired 8 self-storage facilities for $72.2 mn in the first half of 2015, and is under contract to acquire another 9 facilities – 3 in Colorado and 6 in Florida – for $96.7 mn.
Despite a solid year-to date growth, Public Storage's stock, I believe, has ample momentum left, given improving fundamentals in the self-storage industry, the company's solid brand image and strong presence in key cities as well as strategic expansions and synergistic acquisitions. Moreover, Public Storage remains committed to increase shareholders' wealth with dividend hikes.
With target price of $230, Public Storage's shares, in my opinion arel attractive for medium-term investment. 
<!== INSTRUMENT %% %1440% ==!>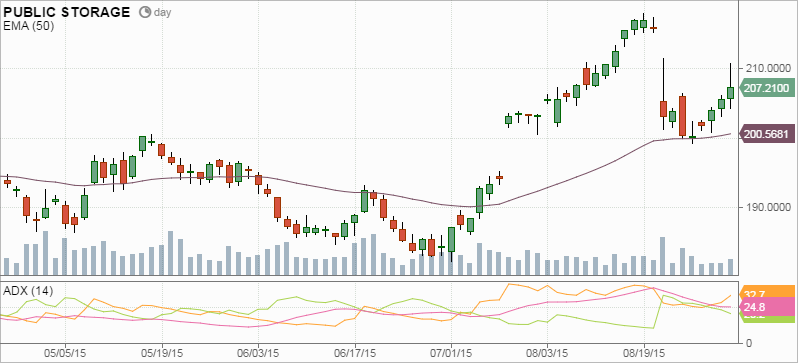 Voting is over
Waiting for


the right answer