During this period of uncertainty, I continue to watch JPY crosses. Today, my eye is on the GBP/JPY as it finds itself at an important support, and has found some initial buying there.
It's best to see if from a daily chart:
<!== INSTRUMENT %% %1440% ==!>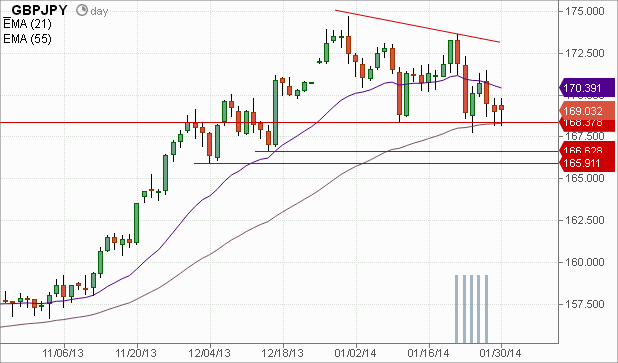 As we can see the 168.40 area is a pivot from earlier in the month, and while breached briefly on Monday, has remained as an important level for the pair's bulls to defend.

There's of course scope for the pair to fall further, to perhaps 166.60 or 165.90, two previous lows in December.

But, if sentiment is able to shift at all from the "crisis" environment that has gripped markets as a result of the troubles in the emerging markets space, then this could be one of the currency pairs to benefit.

It takes a slightly brave trader to go against the prevailing short term trend but with a good stop, a long here presents a good risk to reward profile. The prudent thing could be to wait and see momentum shift before attempting to buy.